Crop merchandising has been stubbornly analog for decades. Scale tickets, phone calls, and texts are the way business gets done. Inconsistent standards, incomplete information, and lack of visibility into what's happening have been accepted as the way things work.
The good news? There's a much better way.
One that enables and enhances existing relationships. Brings efficiency and visibility through digital connection. Surfaces profitable opportunities that make all participants better off. And brings clarity, ease, and speed to a frustratingly manual set of activities.
We're excited to introduce Market+ by Indigo – the result of input from over 150 grain merchants, farmers, and advisors in the last year alone.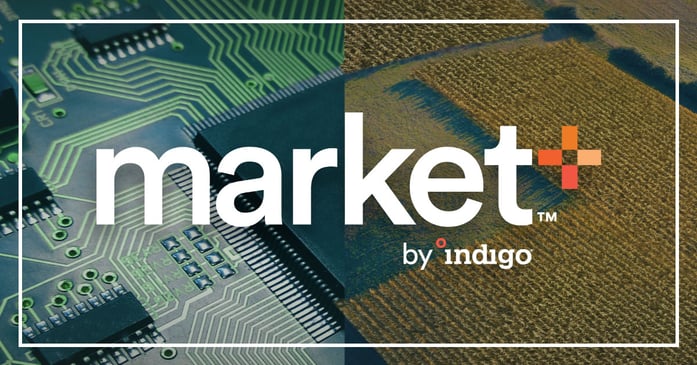 As we recently announced, Market+ is the digital merchandising application for the ag supply chain that increases efficiency, optimizes assets, and unlocks sustainably sourced contracts to expand revenue opportunities. Let's dive into 5 challenges we're tackling with Market+.
Digital silos vs. data interoperability
There are many digital ag products today, but even the forward-thinking crop buyers and farmers who use them find that to move data from system to system, it takes great effort. Whether they're sharing data within their own business or communicating with partners, every technology product they use has a different format and process for interoperating – creating "digital silos." The added work and expense of breaking down those silos end up overwhelming whatever benefit those products might provide.
At Indigo, we've designed a single application that serves farmers' crop marketing and sustainable premium program needs, and buyers' merchandising needs, making it easy to collaborate internally and externally. This data interoperability finally makes it possible to operate digitally and efficiently.
Software vs. standards
Software enables people to conduct business more efficiently, but software alone doesn't create the trusted relationships or legal commitments required by participants. In crop marketing and merchandising, software must be accompanied by agreed upon policies, procedures, and contractual obligations in order to replace the trusted handshake between people who've been doing business for years.
Indigo delivers this assurance with Market+, not only for our transaction management tools (Market+ Merchandise and Market+ Sell), but also for the other integrated tools. Market+ Transport establishes the obligations of shippers and carriers when sharing committed loads and rates, as well as the process for document management, approvals, and payment. Market+ Hedge documents the commitments of the party offering the financial product and the farmer using it. And Market+ Source defines the practices required for a farmer to generate premiums for specified crops and the rules for verification, reporting, and payment. With standard procedures, formal vetting, and clear contractual terms, Indigo is delivering a complete software-enabled solution that promotes the industry standards and policies needed to facilitate successful transactions for all parties.
Reports vs. recommendations
Visibility is critical in ag operations, but even companies with digital tools only have access to static reports on past data. Without a coordinated, real-time view – into bids, asks, contracts, freight costs, hedging costs, and more – market participants can't make the best decisions.
That's why Market+ provides real-time updates and visibility. Combined with intelligent algorithms and AI-driven insights, it's designed to deliver tailored and actionable information for your specific operation – just like you can view insights and decide to adjust your investment portfolio online, or through an app. Market+ Merchandise will enable flexible and algorithmically optimized cash contracts by providing suggestions for future delivery windows based on local price changes, national/regional trends, and eligible locations. Grain buyers will be able to maximize profit by adjusting delivery location and time or selling the grain again as appropriate – all within the same application. Market+ Transport will use real-time data to help match shippers with vetted carriers and freight rates, and match carriers with more backhaul opportunities while helping them optimize routes and minimize deadhead miles. Market+ Hedge will help farmers balance profit and risk by providing algorithmic insights and access to financial instruments. And Market+ Source will match farmers with sustainable premium programs they qualify for based on their location, profile, and farm practices.
Products vs. platform
Most ag software products are built for a specific, limited purpose, and that's often fine. The challenge comes when customers want to integrate multiple "point products," or when vendors want to expand their product set or combine their product with another vendor's product following a merger. That's when the drawbacks of inflexible point products become painful and expensive: inconsistent data formats, specialized functionality that's difficult to integrate with, old code that wasn't designed to scale, and custom user interfaces and workflows that can't easily evolve.
Indigo has leapfrogged traditional ag software offerings with a digital platform designed to expand, scale, and integrate. Built on this digital platform, Market+ gives the ag industry an integrated set of tools that reuse common digital profiles, business activities, and user experiences across different parties and offerings. Shared identity, services, and integrated experiences are at the core of Market+. And because it was designed with an open architecture from the start, we can integrate other technologies and services into Market+ to meet your current and future needs.
Connecting brands, agribusinesses, and farmers
Increasingly, consumer brands want more control over their supply chains, from the grain that goes into their food offerings, to the cotton that goes into their apparel products. But there's never been a scalable way to connect brands with the farmers who serve them – until now.
With Market+ Source, Indigo is connecting brands with farmers in their supply chain to source crops grown with verified practices and attributes – such as reduced water and nitrogen use or low-carbon practices. Brands can differentiate their offerings, agribusinesses can grow their business, and farmers can realize premiums that increase their profitability.
Indigo has developed common tools, methodologies, and standards based on several years of experience working closely with consumer brands and grain buyers, as well as with farmers through our premier carbon program, Carbon by Indigo. Through Market+ Source, we're now giving farmers the ability to capture new income opportunities for crops with specific attributes, while enabling brands to efficiently achieve their corporate sustainability goals.
In sum – enabling growth and profitability
Market+ is helping ag participants increase growth and profit by helping them do their jobs more efficiently and capture new opportunities. It unlocks new value – not by disrupting, but by enabling, enhancing, and extending relationships.
Disclaimer: Indigo is not and does not represent to be a commodities trading advisor ("CTA"), futures commission merchant ("FCM"), introducing broker ("IB"), commodity pool operator ("CPO"), or swap dealer. Materials provided by Indigo are for informational purposes only, and Indigo does not solicit, advise or guarantee any sale, purchase or trade.