Low cost, high output. That's the mindset of Ray Sneed and his four brothers, a family of row crop farmers based north of Memphis, Tennessee. It's a mindset that has led the Sneeds to rely on beneficial practices – to use cover crops and no-till across their soybeans, cotton, corn, and wheat acres. Recently, they have brought on some cows and calves to the farm to try the benefits of integrated grazing.
"My dad was cover cropping 30 or 40 years ago," Ray said, "to give back to the soil, because the crops we had growing there weren't giving back themselves. When I started on the farm in the 70s, reducing tillage and using covers wasn't the 'liked' way of doing things. But it worked great for us. And it's still working great." Ray and his brothers continue to add to their quiver of beneficial practices with great results.
As Ray and one of his brothers drove across the state, between two sections of his operation, he talked us through the importance of sustainability, advice for using beneficial farming practices, and some regenerative experiments that saw major success this past season.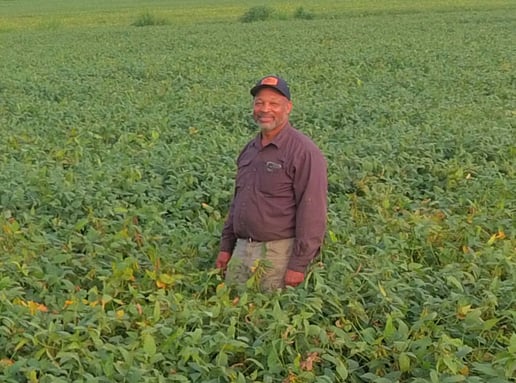 Why is sustainability important to you?
There's a lot we've been doing to advance sustainability. We have been grid sampling for five years, which helps us be more cost-effective for what's going down on every acre. With cover crops, we can cut back on irrigation, cut back on fertilizer and chemicals. And that means we don't have to till, which is huge for us. We can buy equipment that's cheaper and that equipment lasts longer. We'll also have less soil erosion.
If you can make your business thrive without putting as many chemicals in, then you are going to end up making a more profitable crop.
What advice would you give to someone who is starting off with regenerative practices?
Learn as much as you can from a person that's already doing it. And always go to those who are doing a lot of it. Naysayers will not get you anywhere.
It's like a marathon: start slow. You don't need to do everything at once, get every practice in at once. But, I can tell you, for me and my brothers, on our land, we have never seen a time when the benefit of cover crops didn't outweigh the cost of them. Not one time. Not even in a trial.
Have you tried anything new this season?
We're looking to add canola in the future, but didn't do it this year. We did plant a five-species cover crop blend on the farm, I have never seen the land have the type of response we're seeing there. The non-irrigated corn growing in that area has not stressed once this year. Not one spot.
*Represents views and opinions of the grower. Results may vary depending on a number of variables. Indigo does not make any representations, warranties or guarantees as to any specific outcomes or results.