For merchandisers to manage their bidding and contracting efficiently in Market+ Merchandise, we set out to build an easy-to-use and insightful business management experience that covered the full lifecycle of a cash bid contract.
This experience now brings together bid editing and pricing strategy, as well as contracting and hedging, into two comprehensive views for merchandisers to quickly adjust their prices and better understand their exposure.
Let's take a closer look at each of these experiences.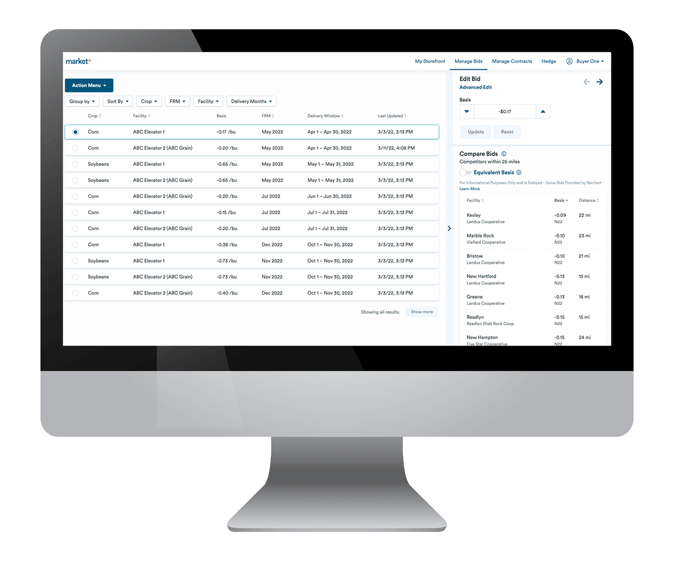 Bid Management

Upload your bid sheet. Merchandisers are used to managing hundreds of daily bids in a spreadsheet. They can get started in Merchandise by uploading that spreadsheet outright, in only a couple of clicks, to instantly bring the right prices to their team. Bids can also be created in the software from scratch.
Edit details for any bid. After bids are uploaded, quick basis adjustments can be made to any bid (or group of bids). A merchandiser can also open the Advanced Edit window if they'd like to also edit futures month, delivered facility, and delivery window – and duplicate the bid (or group of bids), if needed.
Stay competitive. Posting the right bid starts with knowing where your market is. With the bid comparison analytics built into Merchandise, merchandisers can compare the basis for one of their bids to all other bids competitors have posted in a 25-mile radius. To account for differences in futures reference months between these bids, a merchandiser can switch on Equivalent Basis, which adjusts their bid's basis to reflect the spread between futures months for all competitor bids.
Sync bid changes automatically. Changes made to your bids in the software flow automatically to both your origination teams and the farmers they're buying from digitally. The Merchandise bid sheet can also be exported, allowing you to plug in its adjustments to any existing workflow.

Contract Management
See a topline summary. At the top of your "Manage Contracts" tab, you can see how many bushels you've purchased and how many of those bushels still need basis pricing, how many need futures pricing, and how many are fully priced.
Filter contracts. Merchandisers have a wide range of options to view their contract list, based on account name, delivery window, delivery location, futures month, and price type.
Edit contracts. There's always the option to update contracts, whenever a merchandiser and seller agree to adjust the delivery window, quantity, delivery location, or basis price. This makes it easy, when the opportunity arises, to take advantage of arbitrage.
Preserve the contract's history. All activity related to a contract, from its hedging to a change in its pricing details, is captured and summarized right within the contract's page. If multiple merchandisers or originators touch the contract over its lifespan, this visibility helps to establish a shared understanding of what has already happened, and when.
A streamlined way to capture more business
With intuitive ways to manage bids and contracts in Market+ Merchandise, merchandisers can feel confident in their bidding strategy and know their risk position. They also always have the option to get closer to a particular bid or contract, adjusting basis levels or editing a delivery window, leaving it to Merchandise to record and organize these details in case they're needed later. This leaves more time to work on new merchandising strategies, explore alternative markets, or get into deeper conversations with their farmer customers – anything but the mundane, repetitive tasks usually associated with managing business.
Updated: March 17, 2023
Disclaimer: Indigo is not and does not represent to be a commodities trading advisor ("CTA"), futures commission merchant ("FCM"), introducing broker ("IB"), commodity pool operator ("CPO"), or swap dealer. Materials provided by Indigo are for informational purposes only, and Indigo does not solicit, advise or guarantee any sale, purchase or trade. Terms and conditions apply.