Grain buyers are putting a new focus on upgrading their back-end technology. They're buying into logistics software, hedging services, and market analytics. They want to stay competitive as farmers get more comfortable using digital channels; roughly 50 percent of farmers now say they are willing to buy agricultural products online, a jump from just two years ago.
Most of all, buyers want to continue delivering an exceptional customer experience. Marketing grain to any of their facilities should be easy and fast. Their origination and merchandising teams should be able to grow without needing to increase headcount or compromise on existing relationships. And their brand should be front and center.
We designed the digital storefront experience for Market+ with this in mind
The digital storefront is a two-sided experience. On one side, merchandisers and originators can organize their bids. On the other side, farmers can engage with and transact on those bids. That design likely sounds obvious and familiar. But it's the way that the digital experience is organized for both the buyer and the farmer in Market+ that helps to bring new clarity and efficiency to the merchandising process.
---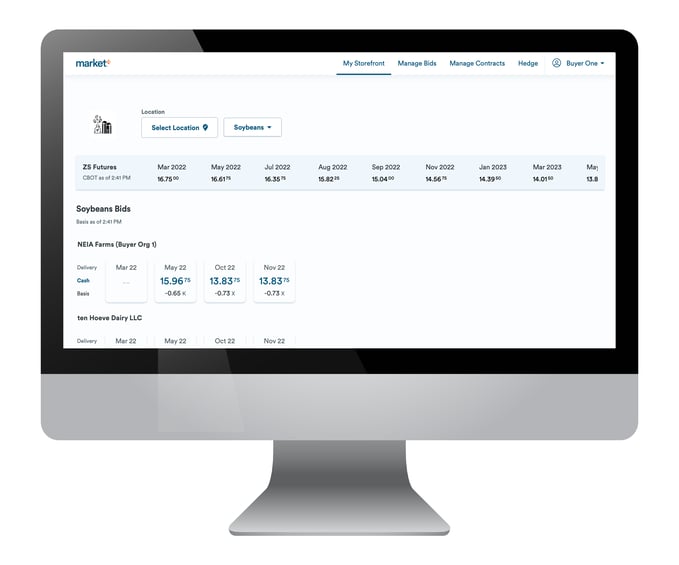 A view of the desktop buyer experience.
---
A comprehensive and intuitive view for the buyer
Send a personalized invitation. Farmers, when invited to Market+ by their originator, will receive an email with easy-to-follow instructions for setting up an account and completing transactions. With our product's intuitive design, this onboarding process is simple for farmers to complete and originators to manage.
Import your current bid sheet. Creating new bids within the storefront is as easy as uploading an Excel spreadsheet. Every time these bids are uploaded, the existing bids are purged, giving buyers peace of mind that only their latest bids are ever available for their customers to see.
Fast fixes for live bids. If a particular bid needs to have its basis, futures reference month, facility, or delivery month edited after it's uploaded, the Advanced Editing window allows a merchandiser or originator to quickly make updates while still having the entire bid sheet in view.
Always open for business. Since this storefront is "always on," meaning all cash, futures, and basis equivalents for a bid are updated in real-time, farmers can take action even when an originator or merchandiser is away from their computer or phone in a meeting or with another customer. A farmer can lock in the price that they like – and the buyer can review it later in the day.
Software for the contract's full lifecycle. Right from the storefront, an origination team can click on a real-time bid, enter bushels and an account name to lock in the contract, hedge appropriately, and automatically send the resulting digital contract to the farmer. All in one place! This limits entry error and hedge slippage. Plus, an integrated system makes training new employees easier.
---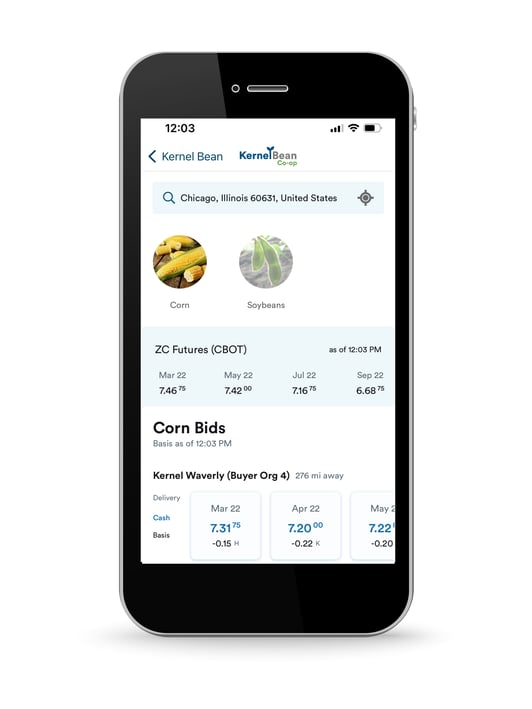 A view of the mobile seller experience.
---
A clean and intuitive view for the seller
Get personalized bids. Based on where the farmer is delivering from, bid sheets within Market+ are organized by distance to facility, with the closest facilities showing up at the top of the list. A farmer can add as many entity addresses as they're delivering from to their Market+ account and cycle easily between various locations when selling grain.
Align details between facilities. Delivery windows, in the bid discovery process, are standardized between different facilities. This makes it easier for the farmer to quickly identify the best price while the buyer gets the flexibility to post for delivery windows.
See CME prices live. Farmers also have access to the same live futures feed a merchandiser or originator can see on their side of the product experience; this visibility helps to prevent pricing misalignment or misunderstandings, since all basis, cash, or futures-only contract pricing is changing in real-time.
Transact from anywhere. Farmers can see a buyer's latest bids, any time of day, right from the convenience of their phone.
An easier way to capture more business
This final self-service option is one of the strongest motivators for buyers to upgrade their back-end technology with a digital branded storefront like the one they receive in Market+. The ability to bring in more of a known farmer's supply, even without more people manning the phones, means you can capture sales that would otherwise have been missed.
Disclaimer: Indigo is not and does not represent to be a commodities trading advisor ("CTA"), futures commission merchant ("FCM"), introducing broker ("IB"), commodity pool operator ("CPO"), or swap dealer. Materials provided by Indigo are for informational purposes only, and Indigo does not solicit, advise or guarantee any sale, purchase or trade.