"What if you could manage the entire lifecycle of a grain transaction through a single application?" This was the question that brought together a few of Indigo's crop marketing leaders with NGFA attendees last week for an exclusive webinar event focused on the next generation of digital merchandising technology. Where is the industry headed? What lessons can we take from other sectors? And how can the right software benefit the entire ag supply chain?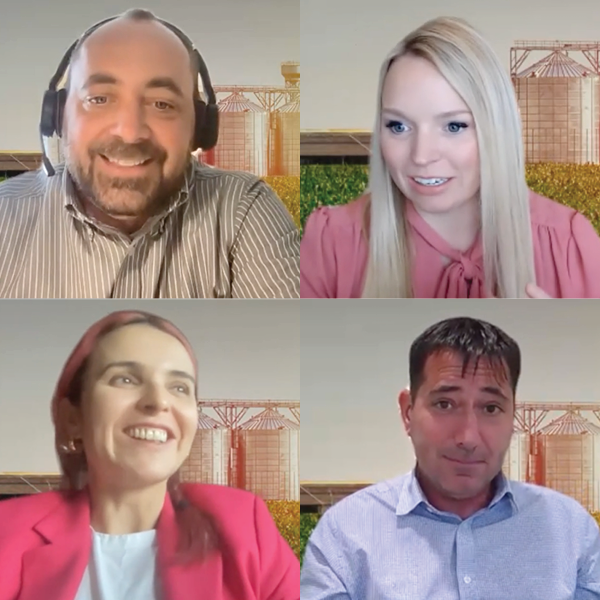 From top left going clockwise, Rodney Connor, Heather Gieseke (host), Aline Pezente, and Dario Maffei spoke during the NGFA webinar event, "Digital Merchandising: Tools, Technology, and Software to Build Closer Relationships." The conversation covered developments from the farms in north central Illinois to the buying decisions of Brazilian merchants.
The panelists for this webinar discussed how the merchandising process, from origination through delivery, is currently going through a digital transformation. This change has flooded the market with point solutions for every step in the process – origination, bid management, hedging, transactions, settlement, and logistics. But a comprehensive set of tools all available within a single software experience, rather than several point solutions, would be a more efficient way for merchandisers to service their customers and build stronger relationships. Here are the top three takeaways from the panelists' answers during the event.
1. Technology is changing every industry, from transportation to finance to energy – I want to talk about where the grain industry is in its process of transformation. What is the big impression of the software and tools that are available today?
Aline Pezente – Everyone in this industry is getting more and better access to the tools they need to keep profit margins up, that much is clear. Farmers have better access to grain marketing resources. Even how-to videos on YouTube, which we don't realize as much as we should. So many new technologies are also touching small buyers. And co-ops now have full scale origination teams in-house using some pretty sophisticated software.
But we have too many point solutions, right? That's overall what I'm seeing. When we talk about what's available today, there's a system for transactions and paperwork, one for hedging, one for procurement, one for market analytics and everything's all over the place, which becomes quite overwhelming. Everything belongs in one place. All of these things relate to one another. Your bid price affects your market position and affects your bottom line. There needs to be one unified place to do business. That's what we're lacking right now, at the big picture level.
2. Applying the skills of a data scientist or computer engineer to the complexities of the grain market isn't as simple as it looks. How do we bridge the gap? Bring the intricate market we all intuitively know to make accurate digital tools? Where do you start?

Rodney Connor – Start? Well, I think it starts with the fact that Excel has cornered the market on technology in the grain buyer's arsenal. And the thing is, that's really comfortable, right? Everybody knows how to use it. It's pretty easy to use. People in the grain business understand it from the dumps to the general manager. So that's good. That translates.
The problem is these businesses have been built on Excel spreadsheets. If the general manager of a grain company went in and really looked at the amount of models that are being built into Excel programs these days – that their business is just absolutely running on… I've seen if/then commands a mile long, right? VLOOKUPs hitting 40 different tables in an Excel spreadsheet. And the problem is – when it matters – if the person that supports those [Excel spreadsheets] is doing something else, you're just sunk.
---
"We're really focused on making sure everyone's
aware of what's happening inside the technology and why."
---
– Rodney Connor
So what I'm thinking about is specialization. Optimization. Getting engineers actually replacing those Excel spreadsheets, which in the end is similar work, right? (I very rarely show up at a buyer's place and say, 'Hey, I'm gonna show you something you've never seen before.' That just doesn't happen.) What we're doing is packaging those functions in scalable ways. Really flexible ways.

The other important thing when working with data science and artificial intelligence teams is we don't want to create these things in a black box, right? When I talk about an Excel spreadsheet, with if/then commands 40 statements long: that is essentially a black box. Everyone has lost an understanding of exactly what's happening inside that formula.
When we build tools here on the Market+ team, we think, 'Hey, we don't want this to be a black box.' We want to say, 'This is what's happening.' … We're really focused on making sure everyone's aware of what's happening inside the technology and why.
3. Technology can bring us newfound transparency from the grower to the buyer, the aggregator, down the shipper and truck driver – everywhere grain is going. How do we think about integrating those systems?
Dario Maffei – It is still incremental. It is about small optimizations. People really like to think about the breakthrough innovation, you know – how can I learn more about my soybeans before harvest so I can connect [the soybeans] with a buyer that needs exactly what I'm producing. I think we're getting there … What do you need and what do you have? And I think that's the place where we have seen the most improvement lately [in the supply chain]. The grower has the ability to know better what he's producing even before he's planting. Okay. And the [buyers] know exactly what they need. Okay. So, once you have that connection – of what you need and what you produce – supply chains can have different kinds of connections going on.
But there are other questions to ask. We have to ask: what are the parts we're using today to build this supply chain? Is it the same parts we're going to use in the future? That's the breakthrough innovation and technology that I'm talking about. And the answer – I don't know. But what happens if we, at the level of maturity we're at now, seeing where demand and supply meet now, can start to think about the supply chains of 30 years from now? It's going to be a different kind of supply chain. And that's a nice challenge, an expensive one, because there's a bunch of investment going on in the supply chain. We are experiencing it in other industries already. The way the supermarkets are providing themselves, that supply chain has changed dramatically over the last 10 years. That's a question agriculture is going to have to solve in the near future.