image above: Prof. Keith Paustian of Colorado State University shares his outlook on opportunities
to advance soil carbon research at an Indigo-hosted reception at the 2021 Annual ACS Meeting
The scientific community has heard the calls for climate-smart agriculture and has responded to help expand our knowledge. This was clear at the annual Tri Societies Meeting" or "ACS Meeting," considered the place to be if you want to see the latest advances in the science behind soils and agriculture. Hosted by the American Society of Agronomy, the Crop Science Society of America, and theSoil Science Society of America, it is the premier international scientific meeting bringing together leading and emerging scientific leaders from industry, government agencies, and academic institutions who are all working to advance agronomic, crop, and soil sciences. Held in November in Salt Lake City, this year's theme was "A Creative Economy for Sustainable Development."
Carbon farming was front and center in many of the sessions, events, and posters. It was great to be back in person, meeting with key collaborators, making new connections, and learning about the latest in soil carbon science. Science is the foundation of our Carbon program and we showed up to both share and learn.
What We Learned

While there were some sessions and events dedicated to topics like cover crops and soil carbon at the annual meeting in San Antonio in 2019, you had to look for them. Fast forward two years, and it would be hard to avoid hearing the words "carbon," "sustainable ag," or "cover crops" while walking around the conference or perusing posters.
The scientific community is expanding our knowledge on well-studied topics like cover crops and biochar, as well as pushing the boundaries of our knowledge to ask questions, such as "what is the role of different types of carbon in the soil?" All these topics are essential to advance the positive impact carbon farming. For example, with cover crops, we know from working with our growers that there is not a one-size-fits-all solution. The best way to implement cover crops on an operation depends on the climatic conditions, agronomic goals of the producer, and underlying soil conditions. Research helps us understand the "why" behind the observations we make in the field and help us overcome the problems (e.g., using termination timing as a potential way to reduce N tie up from certain covers ahead of cotton).
On the cutting-edge, researchers are going beyond simply looking at total organic carbon in the soil to understand different pools of carbon, recognizing that some carbon is more actively cycled and others are more stable. Both are essential to a healthy soil. New research can help us better understand how carbon moves between different pools in the soil and improve our ability to measure the impacts of practices and products that benefit the soil and sequester carbon.
---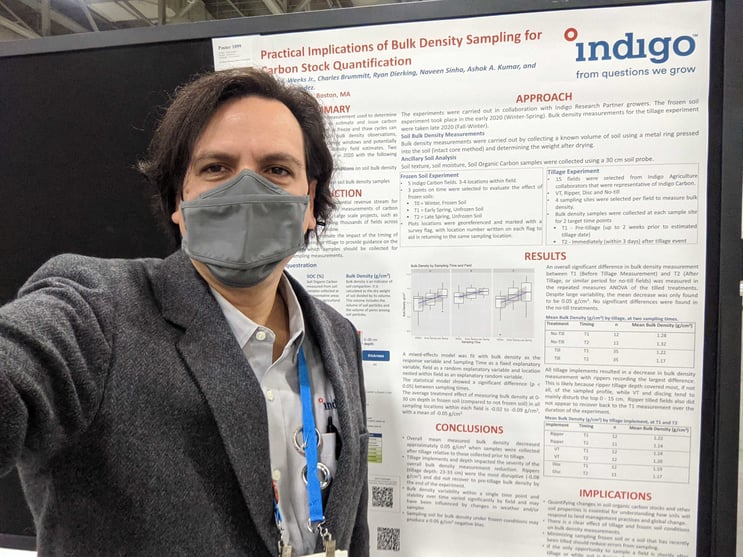 Jose Hernandez, PhD, Sr. Agronomic Data Scientist at Indigo presents a poster on lessons learned from large-scale soil sampling campaigns
---
What We Shared
Being a part of the scientific community means actively contributing to the corpus of knowledge. Transparency and rigor are core to Carbon by Indigo. Since our launch in 2019, we have invested in the science and research required to create high-quality carbon credits from agriculture through our work with trusted registries (such as the Climate Action Reserve and Verra). We also have research partnerships with universities and non-profits (including North Carolina State University, USDA ARS, Woodwell Climate Research Center, Colorado State University, Iowa State University, The Ohio State University at Lima, Michigan State University, University of Michigan, the University of Illinois Urbana-Champaign, and others) and by publishing our work in peer-reviewed journals. Another important part of our work is investing in research with our on-farm trial partners in Indigo Research Partners through the Soil Carbon Experiment.
---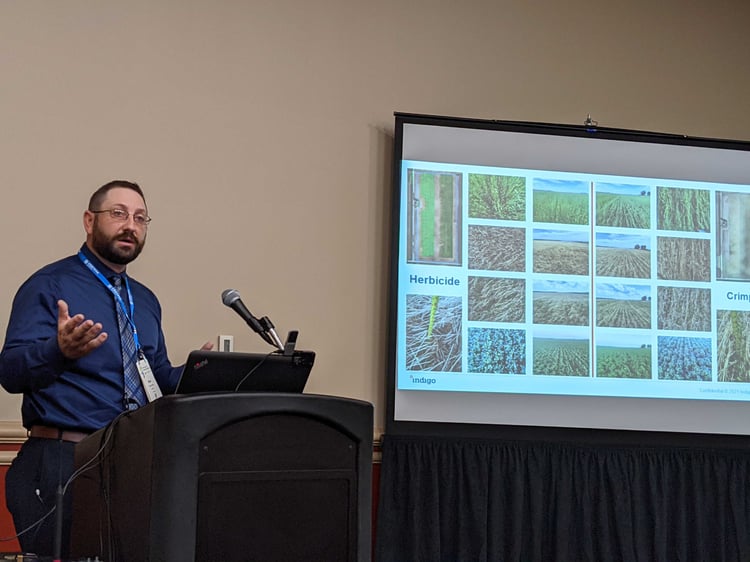 Ryan Dierking, PhD, Sr. Scientist at Indigo shares findings on the impact of cover crop termination choices on soybean yields and soil health
---
At the conference, our Carbon Science & Modeling team showed up in force to share what we've learned. Ryan Dierking, an Indigo Senior Scientist focused on Regenerative Agriculture, shared results from field trials on the impacts of various termination timings and methods on cover crops and the following soybean crop (across multiple states). Biggest takeaway, by terminating later in the spring, cover crop biomass can double and provide greater soil protection without significantly impacting soybean yields.
Indigo is in a unique position to contribute to science because we operate at a scale that is far larger than most university research programs and confront questions that don't come up in typical research. For example, bulk density is a critical soil property to measure for quantifying carbon stocks, but how is it impacted by freezing soils or the collecting samples a week after a tillage event on a field? In research settings, you might just say, never sample in those conditions. But with carbon programs growing around the globe, project developers will need to figure out how to get samples across vast landscapes in narrow windows. Understanding impacts can impact the ability of a program to complete sampling, properly account for uncertainty, and ultimately deliver value to both growers and buyers. Jose Hernandez, Indigo's Senior Agronomic Data Scientist, shared a poster on Indigo's research on these topics and guidelines for consideration on when to sample soils either after a freezing or tillage event.
We also had time to socialize, connect with our partners, and build new relationships at a reception we held during the conference. Scientists from around the world joined us for drinks, hor d'oevres. I shared an update on Indigo's work since 2019 and a call for innovation to further improve sequestration and abatement, soil and emissions measurements, and modeling approaches for quantification of soil carbon. Prof. Keith Paustian of Colorado State University, and an advisor to Indigo, shared his perspectives on the state of the science and outstanding questions for the community to work on.
What's Next
We are following up with folks we met at the conference and look forward to expanding the set of scientists with whom we collaborate. We're looking forward to sharing and learning more at the American Geophysical Union Fall Meeting in December, We are excited to be a part of the broader scientific community and being part of the global effort to advance our knowledge and unlock the full potential of agriculture as a climate solution

If you are a scientist, innovator, or researcher who has ideas on ways to collaborate or want to share your work with us, please reach out to carbontechexplorations@indigoag.com!