Griggs Farm LLC has been operating in Tennessee since 1882. Today, it is run across approximately 2,000 acres by Matt and Kelly Griggs, husband and wife who came back to the farm from college in 2002, and Matt's sister Jocelyn, who joined shortly thereafter in 2005. The focus over the last two decades has been conservation, which has netted the family reductions in herbicide, fertilizer, and irrigation.
Cover crop experiments started in 2011, on all of about seven acres, with a classic blend of cereal rye, crimson clover, and radishes. But the Grigg's quickly ramped up to a "full blown" six to eight species blend only three years later, when it became clear – along with rotating crops and continuing to reduce inputs – their soil was showing a 1,200% increase in water infiltration. That blend today includes cereal rye, annual rye grass, crimson clover, hairy vetch, winter pea, buckwheat, and the "staple" radish.
Below, hear more from Matt about the mindset that has allowed Griggs Farm LLC to become locally and nationally recognized for their efforts in protecting the environment and sustaining the future of agriculture.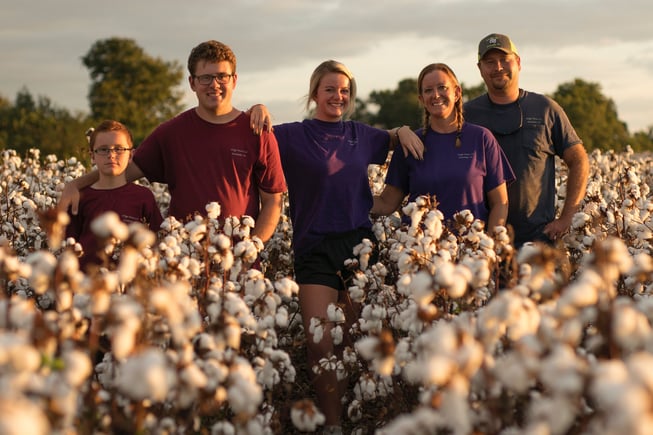 What do you see as one of the biggest challenges on your farm today?
Number one, my biggest hurdle is changing my mindset from farming out of a jug to letting Mother Nature do the work. There are a lot of changes we were able to see from reducing tillage, reducing inputs, and planting cover crops – the next step is quantifying those changes.
What benefits have you seen from the use of particular beneficial farming practices, such as cover crops?
Drawing correlations between the practices used and results seen is incredibly difficult. A couple of years ago, I'd have said that there's not a whole lot on paper that could show how cover crops were helping me, but that I was seeing my yield stabilize and herbicide use decrease. So, we knew it had to tie back in. What we had been able to document was promising, too: a tremendous water filtration increase in our soil.
Besides the filtration levels, what other aspects of your soil health have changed?
So, I've steadily seen my soil organic levels go up. And at times, through soil sample testing – I do a grid system – I have seen some nutrient levels go down at some times, like potassium, but that's tied to have more covers out there taking the nutrients up. Still, with the good growing seasons we've had, the changes in available levels don't worry me much. The rate of erosion has also gone down considerably, thanks to the multiple water control structures, use of covers, and use of manure.
*Represents views and opinions of the grower. Results may vary depending on a number of variables. Indigo does not make any representations, warranties or guarantees as to any specific outcomes or results.