Share this post:
June 27, 2019
Area planted in the U.S.: possible record lows for corn
Applying machine learning to satellite imagery, while also leveraging historical data, Indigo estimates that there are 81 to 89M acres of corn and 89 to 95M acres of soybeans currently planted in the U.S. For corn, that is across Iowa, Illinois, Nebraska, Minnesota, South Dakota, Kansas, Indiana, Wisconsin, Ohio, Missouri, and Texas. For soy, that is across Illinois, Iowa, Minnesota, North Dakota, Indiana, Missouri, South Dakota, Ohio, Nebraska, Kansas, and Arkansas.

If you have been trying to take the planter out these past two months, you already know the story: heavy rains and flooding have impacted a majority of farmers this season. Between flooding and supersaturated soils, many have experienced interference with planting. Indigo has already reported on how flooding impacted nearly 4,000 grain storage bins in March across Illinois, Indiana, Iowa, Kansas, Missouri, and Nebraska. As of early June, at least 1.47M acres across the Midwest were flooded.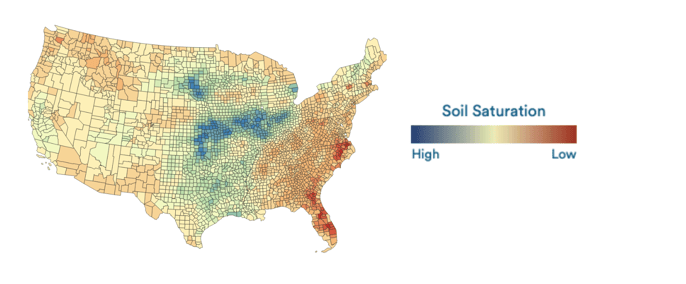 Crop conditions also continue to decline for those acres that are planted, seen in Atlas' CHI indexes. The most comparable low performing year to 2019 is 2012, when drought and excessive heat brought record low yields throughout the U.S. – but even that year showed a better crop health around this timeframe. There are still a variety of factors that could cause the crop to resurge, including a late frost, a soft frost over a hard frost, or favorable summer weather, to name just a few. There have even been past years – such as 2013 – when a late start led to a strong crop. But there is no predicting likelihood of these events.
Indigo will continue watching the models within Atlas, reporting back within the next month with a revised estimate on planted acres in the U.S. As the season progresses, and we see more emergence, our models will shift from rotation-based predictions (leveraging historical data to understand planted acres) to imagery-based predictions (identifying crop type based on spectral signature). This will allow the slight range for corn and soybeans to narrow.
Where does our data come from?
To arrive at the estimates for planted acres, machine learning tools were used to parse between agricultural lands where crops were planted and where soils were either too porous or too moist to allow planting. Atlas then compared these areas to over a decade's worth of historical data, using a predictive sequence to determine whether an acre of corn or an acre of soy had been planted at this point in 2019.
---
Disclaimer:
This document is not for public distribution and has been furnished to you solely for your information and must not be reproduced or redistributed to any other person.

This material is for the personal information of the authorized recipient and Indigo Ag. Inc. ("Indigo") is not soliciting any action based upon it. This report is not to be construed as an offer to sell or solicitation of an offer to buy any commodity or commodity derivative to any person in any jurisdiction where such an offer or solicitation would be illegal. It is for the general information of clients of Indigo. It doesn't constitute a personal recommendation or take into account the particular investment objectives, financial situations, or needs of individual clients.

In so far as this report includes current or historical information, it is believed to be reliable though its accuracy or completeness cannot be guaranteed. Neither Indigo, nor any person connected with it, accepts any liability arising from the use of this document. The recipients of this material should rely on their own due diligence and receive their own professional advice.

Price and value of the commodity referred to in this material may go up or down. Past performance is not a guide for future performance. Certain transactions including those involving commodity derivatives involve substantial risk and are not suitable for everyone. The report is based on information from different sources some proprietary and some public. Opinions expressed are Indigo's current opinions as of the date appearing on this material only. While we endeavor to update on a reasonable basis the information discussed in this material, there may be regulatory, compliance, or other reasons that prevent us from doing so. Readers of this report are cautioned that any forward-looking statements are not predictions and may be subject to change without notice. Our proprietary trading may make trading decisions that are inconsistent with the recommendations expressed herein.
We and our affiliates, officers, directors, and employees worldwide may: (a) from time to time, have long or short positions in, and buy or sell the commodities mentioned herein or (b) be engaged in any other transaction involving such commodities for compensation or have other potential conflict of interest with respect to any recommendation and related information and opinions. No part of this material may be duplicated in any form and/or redistributed without Indigo's prior written consent.