Share this post:
August 25, 2021. What if you could follow this season's corn crop from outer space? What would you see if you compared it to last season? What differences would you see?
Take a tour through five Corn Belt states of interest – the Dakotas, Nebraska, Iowa, and Ohio – with the same remote sensing technology that powers Indigo's software. In the satellite images below, green indicates an abundance of healthy plants absorbing or reflecting specific wavelengths of light; the orange indicates the opposite, a less healthy crop, which is often tied to lower end-of-season yields. Between those colors is a mixed yellow, also indicative of a sub-par crop.
We compared this season to the 2020 growing season.
1. North Dakota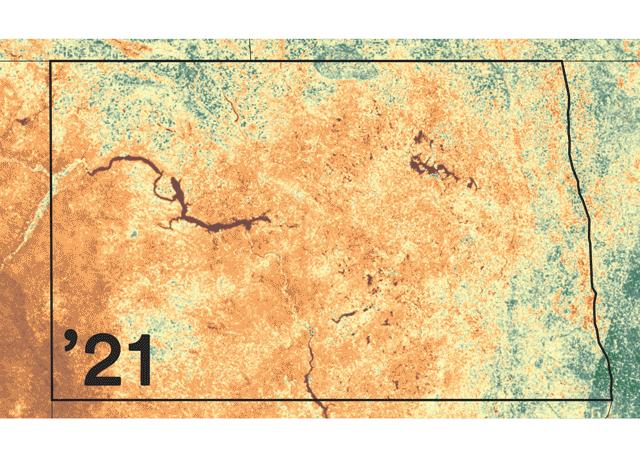 North Dakota continues to have the lowest rated corn and soybean crop conditions of any state this season, given extensive and overwhelming drought conditions. Weather conditions were more forgiving up until this point in the season last year. That's apparent in the contrast of these two images, in the extent of lower crop health throughout the middle of the state.
2. South Dakota

Along with its northern partner, South Dakota has also experienced the brunt of this year's midwestern drought. Last year, the state saw a more prosperous corn crop on either side of the Missouri River.
3. Nebraska

Between this season and last, the difference in Nebraska's corn corp health is more nuanced. You can see new pockets of yellow and orange in place of green at the center of the state, but the western and eastern portions look similar to last year.
4. Iowa

Iowa has seen a more mixed corn crop this year when compared to the 2020 season. The state's northern counties are catching the tail end of the drought that is concentrated in the Dakotas.
5. Ohio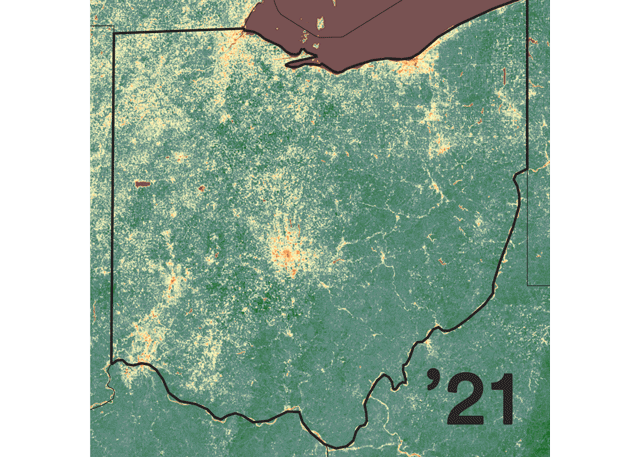 Last year, Ohio was the state struggling with widespread drought conditions, seen here most impacting the northwestern counties. Ohio is now slightly ahead, seeing a strong crop across the entire state.
Looking for more in-season production insights like this? Sign-up for Indigo Marketplace to receive our reports, market context, and basis opportunities on the go.
Disclaimer: This document is not for public distribution and has been furnished to you solely for your information and must not be reproduced or redistributed to any other person. This material is for the personal information of the authorized recipient and Indigo Ag. Inc. ("Indigo") is not soliciting any action based upon it. This report is not to be construed as an offer to sell or solicitation of an offer to buy any commodity or commodity derivative to any person in any jurisdiction where such an offer or solicitation would be illegal. It is for the general information of clients of Indigo. It doesn't constitute a personal recommendation or take into account the particular investment objectives, financial situations, or needs of individual clients. In so far as this report includes current or historical information, it is believed to be reliable though its accuracy or completeness cannot be guaranteed. Neither Indigo, nor any person connected with it, accepts any liability arising from the use of this document. The recipients of this material should rely on their own due diligence and receive their own professional advice. Price and value of the commodity referred to in this material may go up or down. Past performance is not a guide for future performance. Certain transactions including those involving commodity derivatives involve substantial risk and are not suitable for everyone. The report is based on information from different sources, some proprietary and some public. Opinions expressed are Indigo's current opinions as of the date appearing on this material only. While we endeavor to update on a reasonable basis the information discussed in this material, there may be regulatory, compliance, or other reasons that prevent us from doing so. Readers of this report are cautioned that any forward-looking statements are not predictions and may be subject to change without notice. Our proprietary trading may make trading decisions that are inconsistent with the recommendations expressed herein. We and our affiliates, officers, directors, and employees worldwide may: (a) from time to time, have long or short positions in, and buy or sell the commodities mentioned herein or (b) be engaged in any other transaction involving such commodities for compensation or have other potential conflict of interest with respect to any recommendation and related information and opinions. No part of this material may be duplicated in any form and/or redistributed without Indigo's prior written consent.