Indigo Cotton demonstrates a 14% average yield increase on commercial fields in water-stressed Texas
Yield gains reflect year-over-year improvement, validating research and development approach
Boston, Massachusetts, March 13, 2018 – Indigo Ag, Inc., a company dedicated to harnessing nature to help farmers sustainably feed the planet, has released preliminary data from its second commercial season in cotton. Indigo Cotton™ demonstrated an average yield gain of 14% in commercial fields of West Texas. This is an improvement upon the 2016 season, Indigo Cotton's first commercial launch, in which the average yield gain was 11% in a similar environment.
"These results affirm that Indigo's proprietary discovery and development processes lead to continuous performance improvement," said Dr. Jonathan McIntyre, Indigo's Head of Research and Development. "Not only do we utilize data generated in lab assays and greenhouse experiments, but also we collect information from commercial fields, gaining insights to improve our products even after commercialization. These insights translate into better results for growers, processors, and consumers."
Data from the 2017 Indigo Cotton harvest has thus far been collected from 23 commercial fields across Texas, comprising over 2,500 acres. Yield increases were evaluated based on the control — cotton grown in adjacent fields from seeds without microbial treatment — and were achieved without increased water or chemical application. Seed variety and management practices were consistent across fields. Indigo Cotton's overall win rate in West Texas was 91%, with yield increases seen on both dryland and irrigated acres. These results are consistent with five years of company field trials. The 14% average yield gain demonstrated represents an additional $68 per acre for U.S. growers producing with Indigo.
"I had Indigo-treated cotton in a side-by-side comparison with untreated cotton. Throughout the year, the Indigo plants were visibly healthier and taller," said Justin Busenlehner, a cotton grower from Ballinger, Texas. "The Indigo-treated cotton had at least a third more root mass than the untreated cotton. When scouting the field, I noticed 1-1.25 more bolls per foot on the Indigo-treated cotton. I was pleased with the results last year and I have already contracted cotton acres this year."
In 2017, Indigo Cotton was planted on 270,000 acres across Texas and the Mid-South. Indigo Cotton leverages naturally occurring, in-plant microbes to increase the productivity of plants by improving their tolerance to water stress. With expected increases in both the frequency and severity of drought over the coming decades,[1] and groundwater becoming more scarce in West Texas, there is an urgent need for the development of water-efficient methods of food and fiber production.
"Consistent with the work that we've been doing at Texas A&M since 2011, we see that microbes isolated under drought conditions can have a significant positive impact on plant health and growth," said Dr. Gregory Sword, Texas A&M AgriLife Research entomologist and Indigo collaborator. "Partnering microbes with cotton plants in fields throughout Texas and beyond can help to support farmer yields and profits, despite challenging growing conditions. We're excited to see a second year of effective commercial products on the market."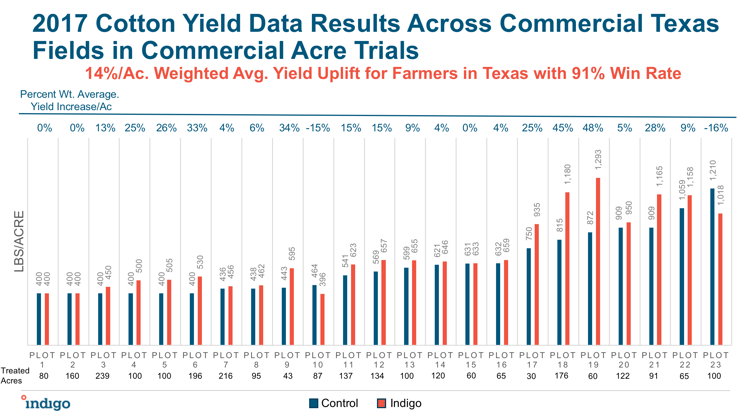 Interested in understanding more about Biological products? Learn more about Indigo Biologicals and biotrinsic™ here.
To learn more about Indigo Ag, visit our about page.
MEDIA CONTACTS
Indigo

Lauren Ashbrook

+ 1 (857) 443-9416

Kwittken for Indigo

Margaret Manning

+ 1 (646) 747-9390
[1] http://www.nature.com/nature/outlook/agriculture-drought/index.html