May 27, 2022. The best laid plans, in farming, are always close to going awry. Heat waves, heavy rain events, and disease stress can disrupt an otherwise healthy crop—and there's a lot at stake. How can you help minimize disruptions from these unforeseen pain points?
Rain rain, go away. Wet weather doesn't just delay planting—it jeopardizes emergence and crop health. You may get a crop into the ground during a dry week, but what if next week brings torrential rain and super saturated soils? The answer: a greater chance of seedling disease.
From 1996 to 2007, seedling disease was directly responsible for suppressing soybean production an average of 29 million bushels every year. From 2010 to 2014, seedling disease accounted for between 7% and 13% of yield losses in soybeans. To complicate matters, seedling disease has more to do with the soil than the seed itself; poorly-drained and compacted soils are more likely to be impacted by the fungi and fungus-like pathogens.
Volatile start to the year. The 2022 growing season has been off to a rough and slow start, with almost every agricultural area of the U.S. experiencing delays from cold weather, extreme drought, or excessive precipitation. As Ryan Stockwell writes in his piece on managing soil moisture for successful planting and healthy stands, large areas of many states such as Indiana, Michigan, New York, and Alabama are experiencing extremely high soil water balances this year. And, at the same time, as of this week, 187.5 million cropland acres are experiencing drought conditions.
The wettest soils, as of today, continue to be in the northwestern and eastern Corn Belt. As Michael Cordonnier, an agricultural consultant reporting on soy and corn production in the Americas, writes in his latest report, the five states with the highest surplus soil moisture are: Minnesota (38%), Ohio (36%), North Dakota (33%), Indiana (26%), and Illinois (23%).
There's still time. For farmers looking to double-crop soybeans this year while managing overly saturated or too dry soils, biologicals are an affordable, easy to apply, and effective input for helping crops withstand stress from the moment they're planted. That includes biotrinsic™ M34, a powerful product that improves nutrient loading for soybeans.
Why M34?
M34 reduces the soil pH around the roots of the plant, increasing the availability and mobility of nutrients like nitrogen and phosphorus
M34 also improves water-solubility of key micronutrients, like iron and manganese, required for plant growth
In the field, through sap and tissue analysis, we have compared soybean plants treated with M34 to their untreated counterparts; the treated plants have demonstrated higher nutrient concentrations
Best of all, M34 has been shown to work especially well under stressful conditions, such as drought and saturated soils—increasing yield two bushels per acre on average
What's the advantage of Indigo biological products? Unlike other biological treatments on the market that are applied to the soil, biotrinsic treatments are applied directly to the seed before planting; this allows the microbes to form a symbiotic relationship with the plant by colonizing around its roots and moving up into its shoots and leaves.
Plus, many of the microbes used for biotrinsic products are sourced from plants experiencing – and thriving in – stressful, real-world conditions. We isolate our microbes from inside those plants. Not from the soil around it. And not from the surfaces of plants. This means that our microbes have been effectively invited by that plant to live inside its tissues and become a part of its internal biology and metabolism.
As Kay Little, an Ohio farmer who also works as an account manager at Indigo, put it, "We are looking at the plants that have survived stressful conditions—drought, heat, or heavy rain. We collect those plants and study their microbiome—a collection of microorganisms in all living things—to create these treatments." Little uses biotrinsic on all of her 500 corn and soybean acres.
Indigo also identifies workhorse microbes within seeds of both ancient and recent crop varieties, allowing us to develop treatments that help promote vigorous early root growth and water uptake as well as help suppress plant diseases.
Other tips for double-crop beans? The much later planting date for double-cropped soybeans means the plant will undergo reproductive growth—a critical growth stage—in warmer soil temperature conditions, which are more advantageous for growth. But there are also more risks than full-season production, according to Oklahoma State University Extension—including weeds, insects, and fertility risks. The goal, overall, should be to plant thick, plant narrow, use longer maturity varieties for soybeans, and manage weeds up front, according to PennState Extension.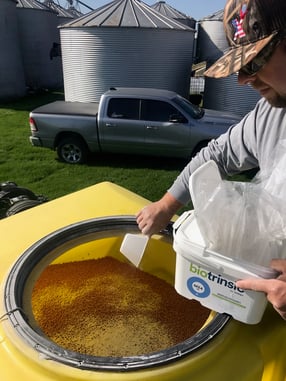 The right fit. If you plan to double-crop soybeans this season, and want to see if M34 is right for your soil type and conditions, talk to your nearby retailer about biotrinsic by Indigo.