Share this post:
Favorable weather through the end of July and beginning of August improved corn and soybean health across America. Was it too little, too late? Or the first step in a resurgence? Uncertainty prevails in a challenging season that's become even more difficult to predict.
Even with downward revisions announced today for corn and soybean production, this season finally has a streak of optimism. The dog days of summer brought heat, humidity, and even some rainfall to many U.S. farmers – four weeks of favorable weather in a year that's offered none. Crop health has surged in some states as a result, such as Missouri, while others that were already performing well, like Nebraska, are now breaking above the ten year average. A dismal start could, in fact, get corrected.
The key question is what will happen between now and harvest. We are making up ground, but we've got a long way to go yet. However favorable the weather is from here on out, an early frost would spell doom for a late crop. Illinois corn maturity is currently 22 days behind the ten year average; Indiana is 20 days behind; Ohio, 22 days. Overall, for corn, the United States is 15 days behind. At this rate, reaching black layer in many areas is not a foregone conclusion.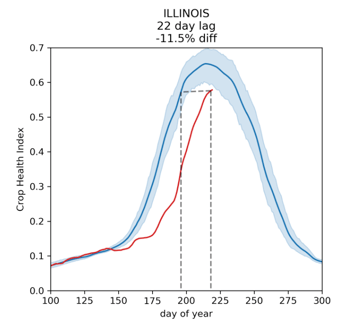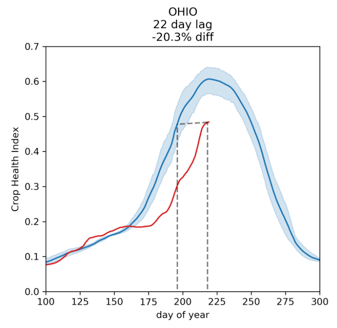 A peek into the field-scale imagery of Atlas tells the same story. Compared to last year, the fields in the heart of many important corn and soy production areas of the country are either not planted, or far behind where they should be by this time in the season.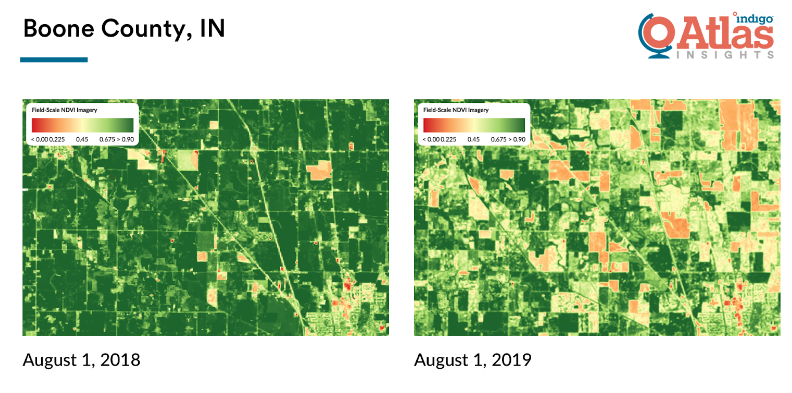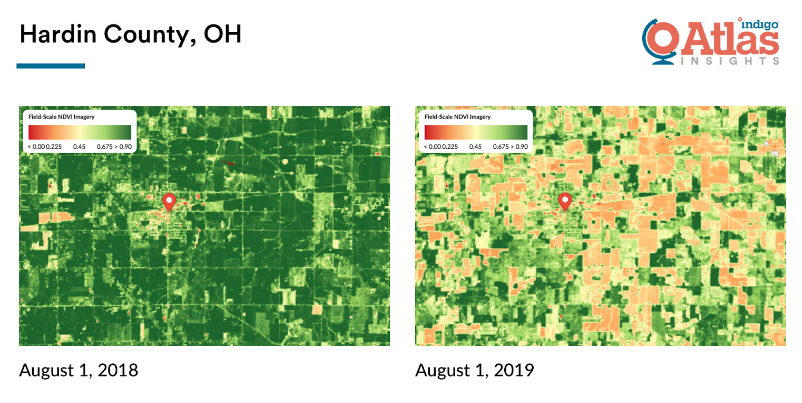 Whether the recent bout of favorable weather was too little, too late, or if it's the first successful stride towards a decent season remains to be seen. Indigo will continue to use its state-of-the-art technology to keep a close eye on the U.S. corn crop as the situation evolves , and will report back in September with revised yield, acreage, and production forecasts to bring insights to how farmers should prepare for the end of the season.
Disclaimer:
This document is not for public distribution and has been furnished to you solely for your information and must not be reproduced or redistributed to any other person.
This material is for the personal information of the authorized recipient and Indigo Ag. Inc. ("Indigo") is not soliciting any action based upon it. This report is not to be construed as an offer to sell or solicitation of an offer to buy any commodity or commodity derivative to any person in any jurisdiction where such an offer or solicitation would be illegal. It is for the general information of clients of Indigo. It doesn't constitute a personal recommendation or take into account the particular investment objectives, financial situations, or needs of individual clients.
In so far as this report includes current or historical information, it is believed to be reliable though its accuracy or completeness cannot be guaranteed. Neither Indigo, nor any person connected with it, accepts any liability arising from the use of this document. The recipients of this material should rely on their own due diligence and receive their own professional advice.
Price and value of the commodity referred to in this material may go up or down. Past performance is not a guide for future performance. Certain transactions including those involving commodity derivatives involve substantial risk and are not suitable for everyone. The report is based on information from different sources some proprietary and some public. Opinions expressed are Indigo's current opinions as of the date appearing on this material only. While we endeavor to update on a reasonable basis the information discussed in this material, there may be regulatory, compliance, or other reasons that prevent us from doing so. Readers of this report are cautioned that any forward-looking statements are not predictions and may be subject to change without notice. Our proprietary trading may make trading decisions that are inconsistent with the recommendations expressed herein.
We and our affiliates, officers, directors, and employees worldwide may: (a) from time to time, have long or short positions in, and buy or sell the commodities mentioned herein or (b) be engaged in any other transaction involving such commodities for compensation or have other potential conflict of interest with respect to any recommendation and related information and opinions. No part of this material may be duplicated in any form and/or redistributed without Indigo's prior written consent.