P.J. Haynie is a fifth-generation row crop farmer based out of Virgina with a satellite operation in Arkansas. Winter wheat, barley, corn, and soybeans – the same crops P.J.'s family grew through his whole childhood – are in use on his completely non-irrigated peninsula on the Chesapeake Bay, while cotton peanuts, rice, and sweet potatoes grow in the Delta.
"If we can be more efficient in what we do," he said, "we can ensure our stability and viability for the long term, taking care of our employees in more ways, and building a better overall farming operation." Learn more about P.J.'s process of on-farm discovery, how combining beneficial practices compounds their benefits, and what guides his tenure as chairman of the National Black Growers Council.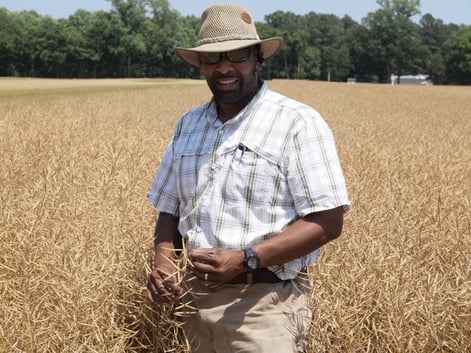 P.J. Haynie in a field of wheat
From a farming perspective, how do you think about sustainability?
We look at sustainability as preserving this land for the next generation. We know that we love eating fresh blue crab and oysters out of the Chesapeake Bay, which is a few miles down the road. We have to do our part to minimize our runoff so we can continue to thrive off of fresh seafood here in our county. The way I look at sustainability is doing my part to make "good" better. A lot of people don't like that phrase—and my high school English teacher would probably say that's not right. But in a sense, we're making what we have better. And I think that, from a sustainability position, we as farmers can do a lot to improve the land and resources we have to make the planet better for the future.
What about cover crops – are you making use of them?
Cover crops have been really helpful in managing soil nutrients, especially nitrogen, phosphorus, and potassium. We like to have some green vegetation out there during the winter months, and it does help minimize runoff and erosion from worked ground that would just lay fallow all fall. I can't say that I've had a side-by-side comparison with how many more bushels we have off of the field with cover crops versus no cover crops. But we can just tell from the windshield of the pickup truck riding by the field how the crop looks, how they emerge, the weed pressure, and how it's handling the drier weather conditions that we have in the spring. Where there are cover crops, we don't have as much ponding, since the roots aerate soil and help with water infiltration.
When did you start reducing tillage on your farm? What results have you found?
I grew up in Virgina driving tractors with bottom plows and plowing land. Back in the 90s, we really started to switch up to no-till and minimum till. The biggest improvement in our productivity came when we brought on vertical tillage machines, because they helped further mulch residue into the soil, improved seed-to-soil contact, and translated to more vigor when the seed comes out of the ground, and more root establishment. That's when yields really started to take off.
More data is coming out today on how farming with a combination of beneficial practices can accelerate and compound their benefits. With the number of practices you're using, have you noticed anything like that?
The combination obviously makes us more efficient. If we can reduce our expense on diesel and labor and stop running down our equipment and get the same type of yield, we are being sustainable in our own way. And I think that's the biggest thing. We just want to do as well, if not get more, with less. Through a combination of minimum till and no-till and cover crops, we don't see as much rutting as we've seen in the past. We want to do our part to be good stewards, and we know that having better soil health and tilth is just better for us agronomically.
Let's switch now for a bit to your advocacy work and involvement in the community. Can you tell us a bit about your work with the National Black Growers Council?
I've been very blessed to meet other black farmers in the country, which led me to realize that our numbers are so small and that advocacy is one of our key needs. There are more bald eagles in the country than there are black farmers. If we don't do something to implement some programs and get some things in place, black farmers will soon be extinct.
It's not like that discrepancy came about because it rained on the white farmers' side of the road and not on the black farmers' side. There are a lot of historical inequities at play in the rapid decline of black farmers. Someone has to be able to help articulate that to the decision makers, to the policy makers and all the departments dealing with agriculture.
What can help level the playing field?
I hope that I can do my part to help advocate, to showcase, to share. Farming is about knowing what's available to you. Oftentimes, in areas where there's predominantly white farmers, you aren't at the same coffee shop every morning. You don't know what is the latest and greatest herbicides coming out, the newest seed varieties coming out. You're forced to learn and learn from reading and researching. You don't get a local drop-in to talk pricing even, I can't go to my neighbor and say, "Hey, what did that retailer charge you for your herbicide? Because I don't think I got priced right on mine." Most of your neighbors are not going to tell you that, so you have to find a group that can share insights with you, support you, and help. That's one of the biggest components and the real engine under the hood of the National Black Growers Council.
How do inequalities of past generations continue to hold back equity for black farmers?
We all have to understand why it's an important issue we have to address. My great-great-grandfather came out of slavery and purchased land in the county, 60 acres. Versus my neighbor, who's a white farmer my age, his great-great-grandfather was buying land hand-over-fist when my grandfather came out of slavery. So if you look at us side by side today, he has a lot higher balance sheet than I do because he inherited his great-great-grandfather's land, his grandfather's land, his father's land – he inherited so much. Whereas my ancestors didn't have the opportunity. So I'm one or two generations into buying land, and he's five.
When a piece of land comes up in the county for sale, we go to the banker, I say, "Mr. Banker, I want to buy this farm coming up for sale in the county." "Okay P.J., here's the application about eight inches thick. You go fill it out and bring it back to me." I say, "Okay Mr. Banker."

Then my neighbor goes in, and he tells the banker: "Hey, there's a farm coming up for sale and I'd like to buy it. I want to pledge Grandpa Charlie's farm over here on the east side of the county, because I own that free and clear. I want to pledge that for the collateral for my down payment, so I can buy that farm." And the banker says, "Come back after lunch and sign the papers."
There's a lot of inequities like that. We've got a lot of work to do today to get us caught up to where we need to be, to walk side by side and work side by side with our neighbors. We have to put provisions in place to allow black farmers to advance at the level of white farmers.
*Interview responses reflect the personal experiences of the grower. Individual results and outcomes may vary. Indigo does not make any representations, warranties or guarantees as to any operation's specific outcomes or results. All growers should independently consider the circumstances of their operations before adopting any agronomic practices.