It was an energizing experience to be back in-person at Commodity Classic in Orlando last month. Although this was the trade show's second year returning to in-person events since the pandemic started, this year's attendance was higher, signaling the ag industry's renewed confidence and enthusiasm for connecting, collaborating, and problem-solving.

Three years after the start of the pandemic, there are more players – from small startups to globally recognized brands – in the sustainable ag industry than ever, representing a shift in the market, especially when it comes to carbon credits. Indigo itself has experienced significant growth during this time – from the launch of our Carbon by Indigo program in 2019 to the release of two carbon crops and two rounds of payments to participating farmers totaling more than $5 million, with valid, traceable science to verify our work.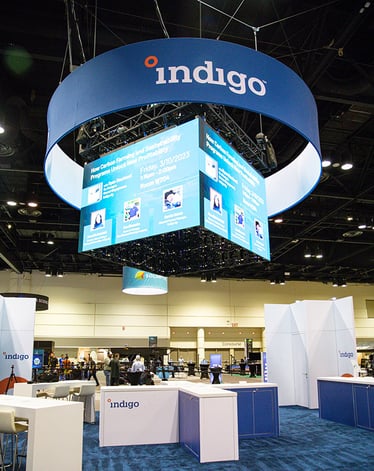 As the carbon market has grown over the past few years and Indigo has been able to demonstrate successful outcomes, farmer interest and knowledge in the carbon market has grown, spurring rich conversations at this year's Commodity Classic. A key topic of conversation was additionality, or the net amount of carbon abated and sequestered in the soil by a farming practice measured against a baseline. Additionality is a foundational criterion for the integrity of carbon credits, but it poses a challenge for farmers who have already been practicing carbon farming methods like reduced tillage and cover crops for a long period of time. Valuable insights were shared among farmers, agronomists, and other experts about how to achieve that additionality and expand eligibility for farmers who want to monetize their sustainable practices, along with the agronomic benefits beyond additional income - improved soil health, greater resilience against environmental stress, and more.

At the show, we announced FieldFlex, which gives farmers new freedom to participate in both carbon farming and sustainable crop production at the field level. Farmers who may not have been eligible for carbon farming programs in the past now have a pathway for monetizing their sustainable practices by selling their crops at a premium through Indigo's Market+ Source program. And farmers who are participating in Indigo's carbon program can enroll their fields in a sustainable crop program instead of producing carbon credits, in any year of their crop rotation, without jeopardizing their eligibility for Carbon by Indigo. This enables farmers to capture maximum economic benefit from their sustainable practices while maintaining maximum flexibility.

As we look ahead to the 2023 growing season and beyond, it's clear that farmers continue to need support in understanding how best to monetize their sustainability practices, from qualifications to data collection to agronomic advice. There are also clear gaps in available data that the industry needs to come together to help farmers solve. At Indigo, we're excited to continue working with farmers, agribusinesses, and our corporate partners to create a more sustainable agriculture industry while expanding profitability for farmers.