Regenerative farming practices—such as cover cropping, no-till, and extended crop rotations—are gaining momentum as farmers recognize their role in building a more profitable and resilient operation.
In a first of its kind report, you can access the results of a 1,498-county study from 2017-2019, including:
The first current, coast-to-coast map of these farming practices
An interactive map allowing you to explore your county to see how these practices are being used
Analysis of the impacts these practices have both economically and environmentally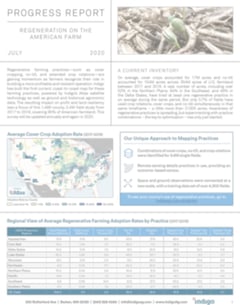 Powered by Indigo's Atlas satellite technology as well as ground and historical agronomic data, the new Progress Report series will release reports that analyze the resulting impact of these practices on profit and land resiliency.
Fill out the form to access Progress Report: Regeneration on the American Farm (July 2020).