After two years of virtual chats and webinars, Indigo was excited to be back in-person at Commodity Classic this month, walking the trade show floor with farmers and partners from across ag. Here are four of the big themes we heard in our panel discussions and one-on-one conversations while in New Orleans for the event.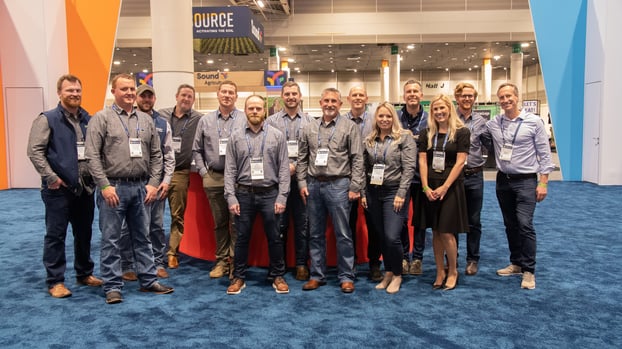 The Indigo team in the booth
1. Wanted: lower input prices and more equipment
Although crop prices are riding high, steep input costs are holding back profit margin growth for most farmers. This was on most everyone's mind at panels, lunch tables, and happy hours across the Big Easy. Even if you're willing to spend the money, inputs—as well as new equipment—are hard to find, adding pressure before the start of the next growing season.
Despite these problems, farmers are (as always) finding ways to adapt and thrive. Kevin Matthews, a farmer from Western North Carolina, shared on Commodity Classic's Main Stage that he ordered his glyphosate in October of 2021 only to find out in January of 2022 that he would receive at most 30% of the order. His response was to quickly change plans and get his hands on other available inputs to fill the gaps.
With everything right now, the farmer's motto should be, "Jack be nimble, Jack be quick." This is according to Matt Miles, a farmer from Arkansas who joined Kevin on stage. Farmers need to be ready to jump on inputs and equipment when they are available and be willing to adjust their plans as needed.
2. Sustainability is nothing new to farmers
Sustainability was a hot topic at Commodity Classic—but without general agreement of exactly what it means.
Tom Vilsack, U.S. Secretary of Agriculture, opened the General Session on Friday by recognizing farmers as the stewards and sustainers of American land for centuries. "You can't keep taking from the land, you've got to give back. Farmers know that," said Secretary Vilsack. Kody Carson of the National Sorghum Producers reiterated those sentiments, saying, "For years, we have made our soils as good or better than we found them to pass them on to the next generation of stewards."
This history of stewardship shows the clear role that agriculture can play in addressing climate change while also guaranteeing the sustainability of the family farm. Carbon farming is a way for farmers to make their practices sustainable both environmentally and financially—to improve their operation's profitability with the help of new revenue from carbon credits. It's a big opportunity and farmers are considering how to seize it in a way that makes sense for them. "How do we create another income stream and do it in the right way so that it fits within your operations and what you are doing today?" asked Judd O'Conner of Corteva.
In the end, everyone agrees that agriculture has incredible potential to address climate change while sustaining farms for future generations. "Sustainability also means the sustainability of the family farm," said Brad Doyle of the American Soybean Association.
3. Data to unlock new revenue for farmers
From Indigo's vantage point, there were more agricultural data, science, and technology companies at Commodity Classic this year than ever before. And these companies are offering solutions that go beyond improving operational efficiency; they unlock new revenue opportunities for farmers.
At John Deere's panel on Friday afternoon, agronomist Yancy Wright shared the company's Harvest Lab technology that allows farmers to measure protein in wheat while harvesting. This data can be used to improve yield mapping by indicating which fields are generating wheat with higher protein content. With more grain buyers willing to pay more for more protein, farmers can pinpoint areas of their fields that are more likely to generate wheat that sells for a premium price per bushel. High protein content also has a direct relationship to nitrogen removed from soil, which means this data can help farmers target their nitrogen distribution where it is needed most.
Data was also front and center at Indigo's What's New presentation: The Future is NOW. Technology to move you forward, faster. "Data is not just about operational efficiency, it's about new business models and new opportunities," said Amit Menipaz, Indigo's Chief Product Officer. To take full advantage, farmers need to build a "digital twin" of their farm that consists of field boundaries, seed, harvest, fertilizer, and other management data.
This "digital twin" is how the sustainable attributes of a crop are verified, providing a collection of measurements for farmers to unlock new revenue opportunities. Today, those opportunities are available in the form of carbon credits, a certification that the farmer has shared data and documentation on their carbon farming practices. In the future, this data will allow farmers to tap into new premium pricing opportunities for their crops by demonstrating the lower carbon practices used to grow them.
With their "digital twin," farmers will have two farms to sell from: the farm that grows and harvests physical crops for delivery, and the farm that collects and organizes data on how those crops are grown.
4. Carbon farming
Carbon farming programs remain new and challenging to evaluate and many farmers were visiting Indigo and other carbon programs to learn more. Successful Farming's Gil Gullickson moderated the "Cashing in on Carbon" panel with three farmers who are already farming carbon. Their advice? Make sure the program is right for your farm. Carbon credit payments are not a replacement for your cash crops and the program you work with needs to fit with how your farm operates. When evaluating programs, also look closely at the contracts and make sure you have an exit strategy, if necessary; some contracts penalize farmers who must make a change to their carbon farming plan.
At our home on the trade show floor, we fielded many of these same questions and we feel strongly that our model maximizes flexibility and choice for farmers. We know things are always changing and there may be a season where your carbon farming practices must be deprioritized. If that happens, and you have to change your practice plan for a season, our program allows necessary changes without requesting a payback. We are long-term partners, and we will be there to work with farmers to continue and expand their carbon farming plans.
Carbon by Indigo also announced the week of Commodity Classic that the minimum grower paymentcredit price for farmers filing their field practice documentation for 2021, also known as Carbon Harvest, will be $20 per credit. This comes on the heels of news that Morgan Stanley expects carbon credit prices to reach $125 per credit by 2026. Indigo guarantees that farmers will receive 75% of that credit price, meaning that this price upside will be captured by the people who are doing the work.
Coming off Commodity Classic and looking ahead to the very first issuance of Indigo carbon credits this spring, we are excited to be part of building a new carbon market with farmers across the United States and the world.
Sustainability for both the family farm and the environment is the future of agriculture.
This article may contain perspectives from one or more third party sources and/or generally applicable information or statements that may not necessarily apply to all operations. A number of variables can affect outcomes on any particular farming operation. Indigo does not guarantee any results with respect to agronomic outcomes, soil health, financial or profitability outcomes, carbon dioxide equivalents sequestered, carbon credits generated or amount or eligibility of payments with respect to any individual landowner or operator. Each participant should carefully consider their own particular situation before adopting any practices and should not rely solely on the information provided in this article.