Information about your farm is yours. And if you plan to use it to start taking advantage of the growing agricultural carbon market, you should know exactly how it's going to be used and protected.

How does Indigo use grower information?
Farm records make carbon credits tangible. Information such as when and where a grower has planted, tillage, cover cropping, and fertilizer application help quantify how much carbon a grower has sequestered or abated. This allows participants to generate credits and get paid.
Indigo prepares the credit for market by combining grower information with randomized soil sampling and industry-leading carbon sequestration modeling methods. This aggregate approach is essential for the generation, verification, and issuance of carbon credits. The more data points collected, the more accurate the model becomes, providing more confidence to credit buyers and better financial returns for growers.
Who has access?
Select Indigo employees will have access to grower information to support and communicate with users throughout the Carbon process. There are some cases where Indigo may work with third-party partners such as universities, auditors, and credit approvers to conduct research in the carbon farming space or generate credits.
Information that a grower shares with Indigo will never be shared by Indigo with another organization, without the grower's consent.
How has Indigo verified its grower information practices?
Carbon by Indigo's practices have been certified by Ag Data Transparent, a respected, independent organization focused on agriculture technology providers (ATPs). Ag Data Transparent's Privacy and Security Principles for Farm Data ensure that ATPs are meeting and maintaining stringent requirements for the collection, analysis, storage, and use of grower information.
Companies such as John Deere, GROWMARK, and Nutrien Ag Solutions can be counted among the businesses that are also Ag Data Transparent-Certified.
Carbon by Indigo also complies with all applicable security frameworks, including the EU General Data Protection Regulation (GDPR), California Consumer Privacy Act (CCPA), and Brazil General Data Protection Law (LGPD).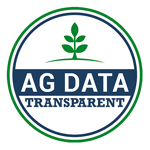 Additional questions about Carbon by Indigo's grower information practices? Reach out to a customer service representative via the chat function in your Carbon by Indigo account.
*See program agreement for terms, conditions and limitations.