Share this post:
Indigo's GeoInnovation Team is excited to share our April South America Crop Health Report. This month's report is updated with new production estimates and expert commentary for corn and soybeans in Brazil and Argentina. We hope this information is helpful to growers planning their marketing strategy, and to traders and buyers formulating their market outlook.
We're committed to releasing this and other market data monthly. Going forward, reports of this type will be made available through Indigo's ag-intelligence channel, something you will hear more about in the coming weeks.
Flooding in the Midwest of the U.S.
Growers have been dramatically impacted by the flooding in the Midwest. Aerial images show significant changes to the landscape, illuminating the extent of the damage that has been reported from the ground. Our own analysis has identified silos and fields flooded by the Missouri River.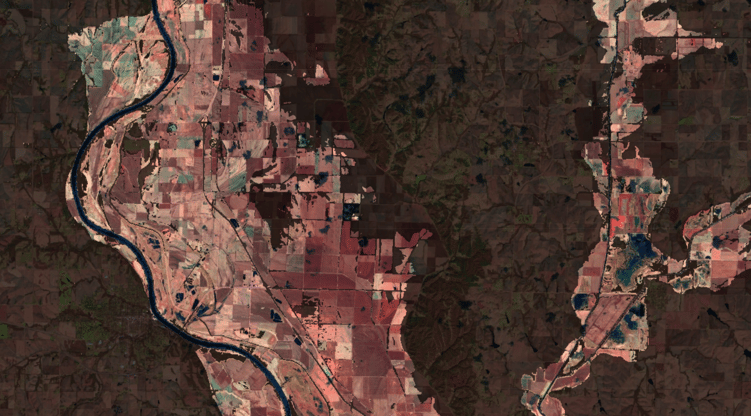 Pre-flood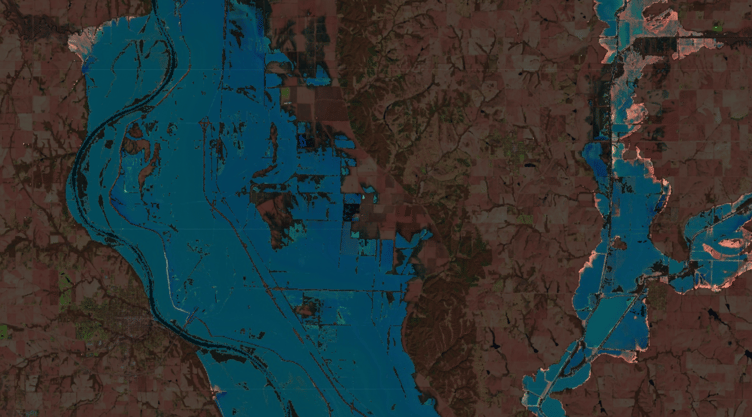 Post-flood
Brazil: Soybeans trend down while corn thrives
Soybean yields in Brazil are down 15% from last year. Below average rainfall continues to impact the crop's health.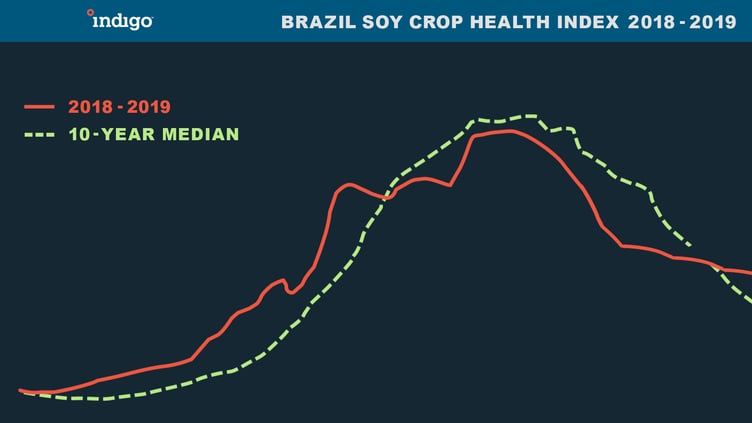 Brazilian corn, meanwhile, has continued to thrive. Corn was planted a few weeks after soy and has been able to take advantage of more favorable weather. Yield is estimated at 92.3 bushels per acre, which is 19% higher than 2018. This is also 12% higher than our March estimates.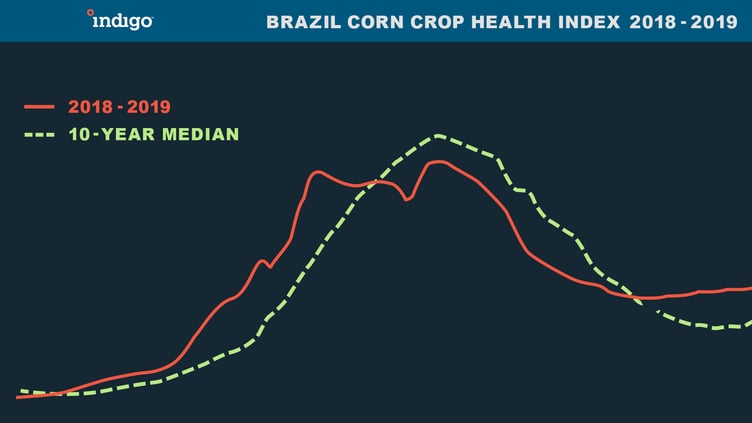 This increase in outlook is due to an unusually strong safrinha crop in Brazil—we forecast an average yield of 102 bushels per acre—well above historical yield trend.
The safrinha crop was planted between January and February, which means that today the crop has moved into the flowering and grain-filling stages of its lifecycle.
Expect this safrinha harvest to be mostly for export, while the earlier planted corn will be mostly for domestic consumption. A crop this big will continue to have downward pressure on corn prices worldwide.
Argentina: Thriving crops across the board
We estimate soybean yields in Argentina to be 49.6 bushels per acre, which is a 53% increase over last year's drought-impacted crop, but down slightly from March estimates.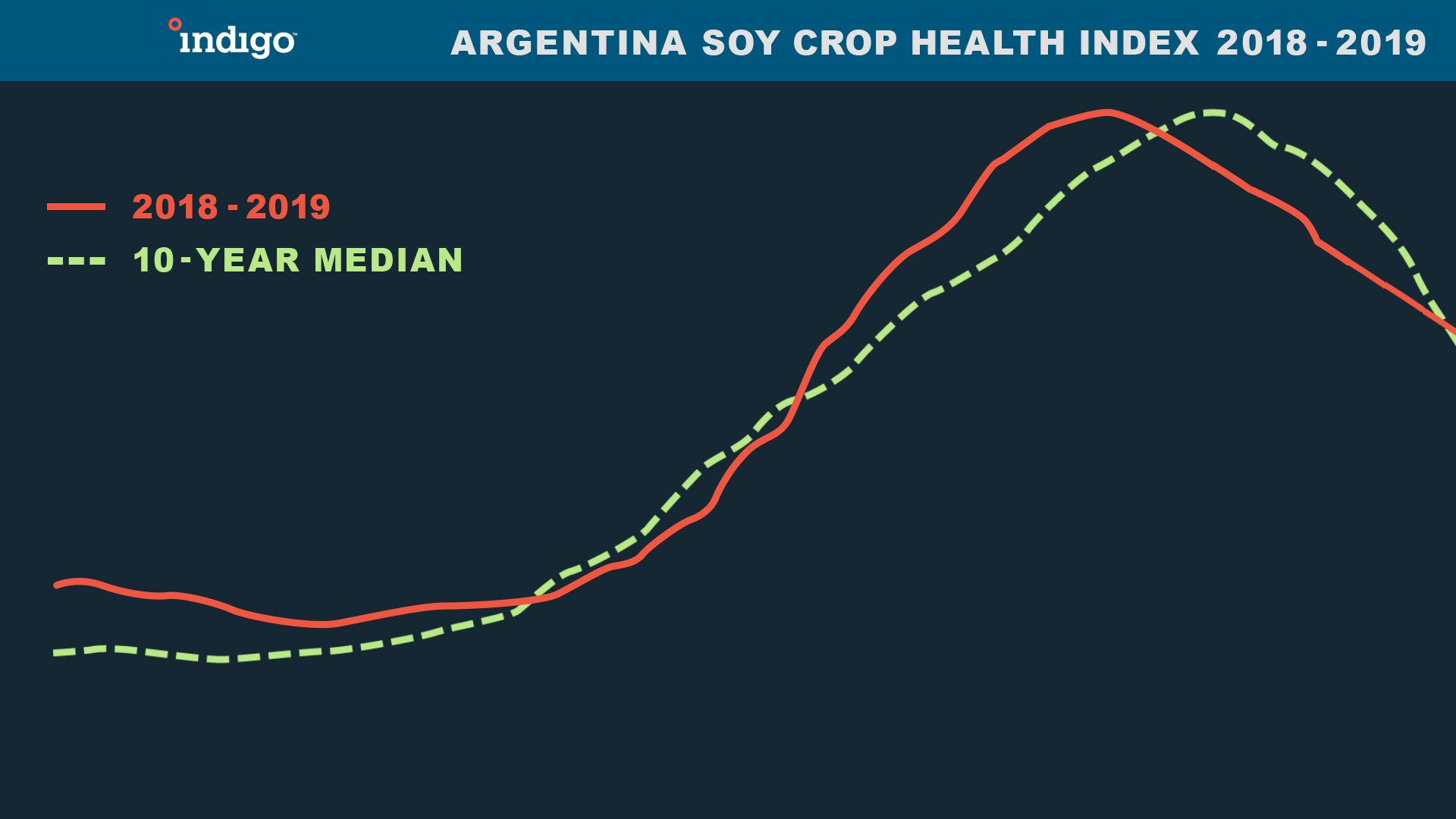 Meanwhile, corn production in Argentina is an estimated 128.2 bushels per acre, which remains consistent with what we reported in March. That yield would put Argentina up 43% compared to the 2018 harvest.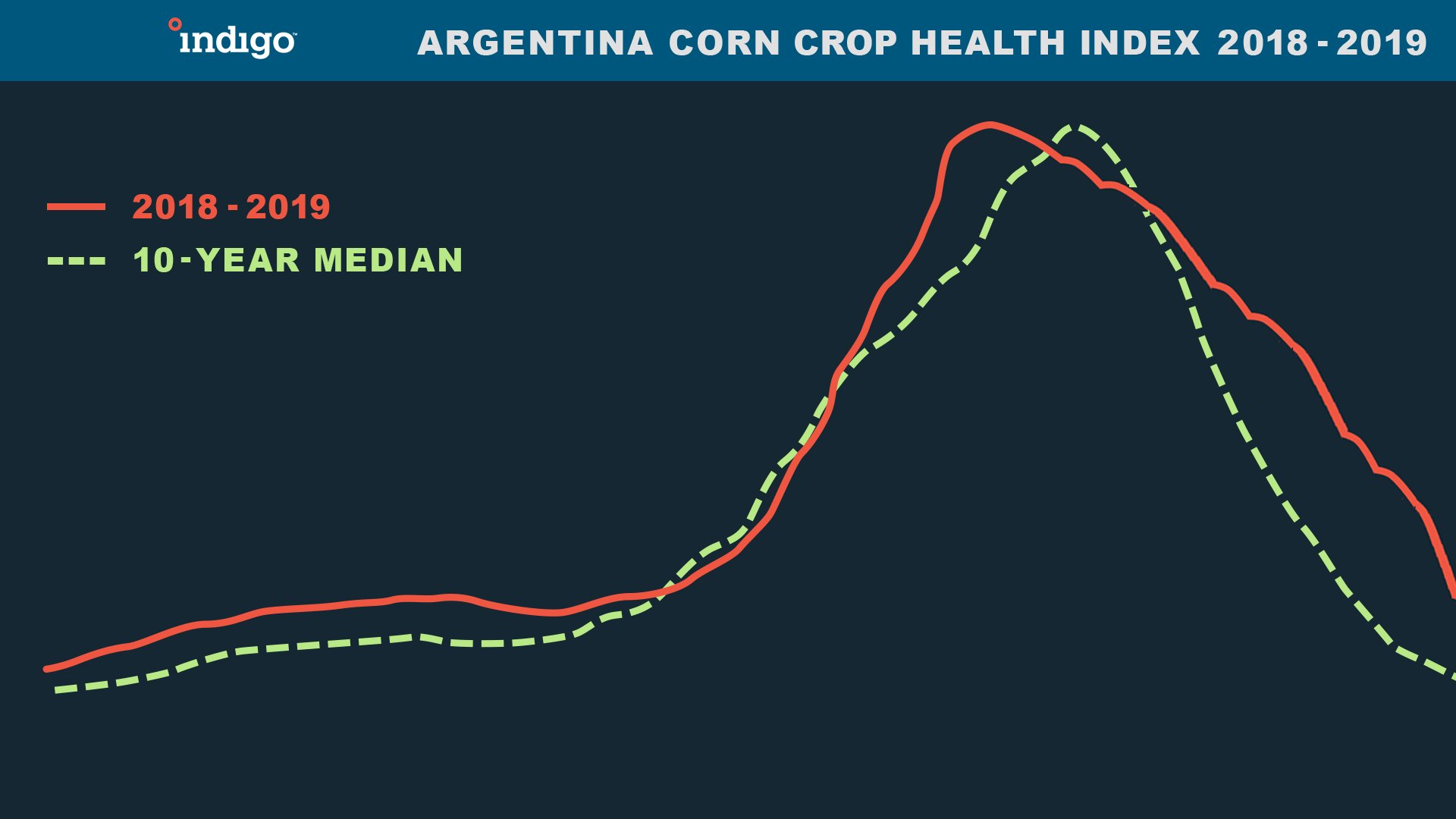 Commentary on the numbers from our experts
Our models expect Argentina and Brazil to produce 11.4 billion bushels of corn and soy this year. The 5.6 billion bushels of corn is up 28% from last year. (The 1.2 billion bushel increase is roughly equal to the combined production of South Dakota and Ohio.) The 5.8 billion bushels of soybeans are up 2% from 2018.
As many U.S. growers are still at least three weeks away from planting – and since there is more rain in the forecast – we will not know the number of Prevented Planting acres across the country until late May (this will give us an early indication of the flooding impact). We will also not know the lost corn acreage this season until June. A combination of intense flooding and unusually damp weather elsewhere could mean a record prevent plant amount for 2019. Historically, this has led to a lower final production in corn. Similarly, in other years with record prevent plant acreage for corn, there has been a switch in acreage to soybeans. We'll see how many growers actually switch over in the coming months. In any event, it's safe to expect a higher soybean acreage by the end of the year.
Record carryout for soybeans continues in the U.S. As discussed in our previous report, this carryout could enable growers to receive a relatively high price when hedging more aggressively with their soybeans.
---
Disclaimer
This document is not for public distribution and has been furnished to you solely for your information and must not be reproduced or redistributed to any other person.
This material is for the personal information of the authorized recipient and Indigo Ag. Inc. ("Indigo") is not soliciting any action based upon it. This report is not to be construed as an offer to sell or solicit an offer to buy any commodity or commodity derivative to any person in any jurisdiction where such an offer or solicitation would be illegal. It is for the general information of clients of Indigo. It doesn't constitute a personal recommendation or take into account the particular investment objectives, financial situations, or needs of individual clients.
Insofar as this report includes current or historical information, it is believed to be reliable though its accuracy or completeness cannot be guaranteed. Neither Indigo, nor any person connected with it, accepts any liability arising from the use of this document. The recipients of this material should rely on their own due diligence and receive their own professional advice.
Price and value of the commodity referred to in this material may go up or down. Past performance is not a guide for future performance. Certain transactions including those involving commodity derivatives involve substantial risk and are not suitable for everyone. The report is based on information from different sources some proprietary and some public. Opinions expressed are Indigo's current opinions as of the date appearing on this material only. While we endeavor to update on a reasonable basis the information discussed in this material, there may be regulatory, compliance, or other reasons that prevent us from doing so. Readers of this report are cautioned that any forward-looking statements are not predictions and may be subject to change without notice. Our proprietary trading may make trading decisions that are inconsistent with the recommendations expressed herein.
We and our affiliates, officers, directors, and employees worldwide may: (a) from time to time, have long or short positions in, and buy or sell the commodities mentioned herein or (b) be engaged in any other transaction involving such commodities for compensation or have other potential conflict of interest with respect to any recommendation and related information and opinions. No part of this material may be duplicated in any form and/or redistributed without Indigo's prior written consent.