Share this post:
Detailed below is an update on Brazil's safrinha corn crop, a final note on harvest in South America, as well as stories and trends impacting growers in the U.S. as they enter the planting season.
Projected Safrinha corn yields in Brazil projections dip after a bout of dry weather
Brazil has been dry and hot over the past month. While this has not impacted soybeans or the first corn crop, since both are over 95% harvested, this hot spell has affected the safrinha crop, particularly areas which planted late, which were in a critical grain filling period. Predicted yield is down ~5% from April.
Corn and soybean takeaways across South America
Combined, yields for Brazilian and Argentinian corn are down 2% from April's forecast, but up 16% from the end of 2018. Argentinian yield projects at 130 bushels per acre, while Brazilian yield is at 88 bushels per acre. Overall, forecasts for South American corn production are at 5.6B bushels, up 28% from last year.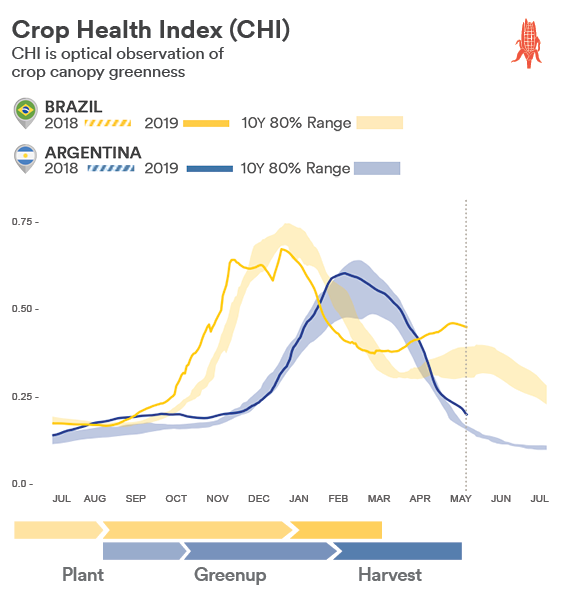 Indigo's South American soy forecast shows virtually no net change from last month. Argentinian yield project slightly up to 51 bushels per acre, while Brazilian soy is weakly holding at 46 bushels per acre. Overall, forecasts for South American soy production are at 5.8B bushels, up only 2% from last year.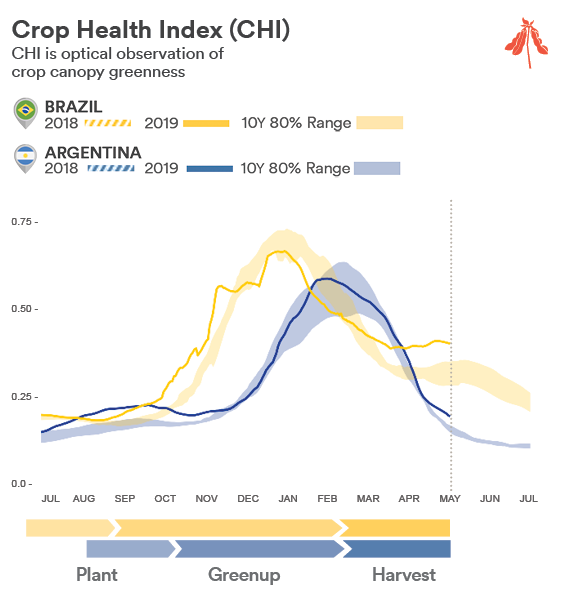 Wet weather in the United States continues to limit planting
Rain and wet conditions continue to delay corn planting by American farmers, particularly the heart of the Corn Belt. Corn planting should be halfway done by this week in May; we are instead just over 20% planted. As corn planting continues to be delayed, farmers will increasingly look to plant soybeans in its place.
More than $100m in at-risk grain stored on Midwest farms
More than one million acres of Midwest farmland were impacted by the unprecedented flooding in March. Located in the affected area were thousands of on-farm storage bins, many containing grain that has been damaged or lost. The United States Department of Agriculture, however, will not estimate, or collect data on the volume of grain lost. Lance Honig, the crops branch chief of the USDA's National Agricultural Statistics Service, told Reuters that surveying the amount of grain lost to flooding by conventional means "would be a challenge."
By using Atlas, Indigo has identified 3,954 at-risk bins across six states: Illinois, Indiana, Iowa, Kansas, Missouri, and Nebraska. This translates to 21.8 - 37.6 million bushels of impacted corn and soybeans, an estimated $102 to $176 million in at risk grain.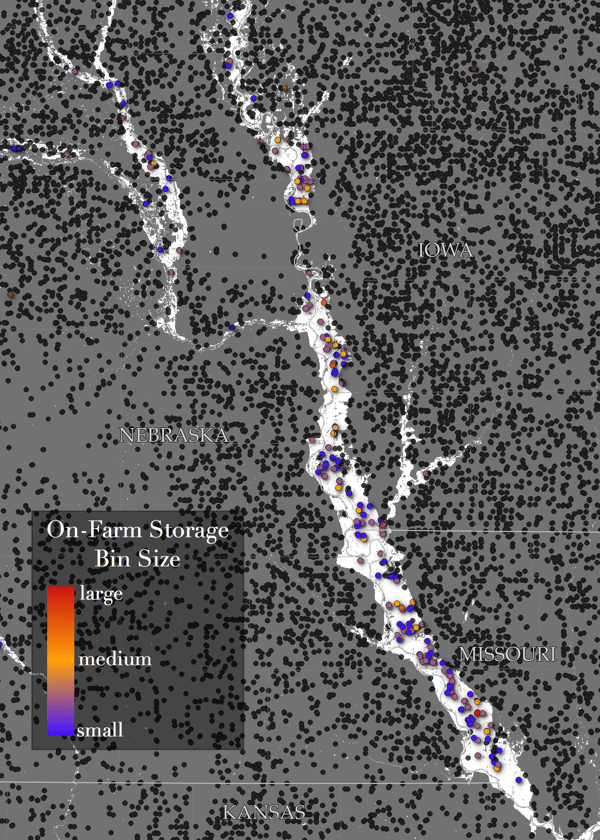 Where does our analysis come from?
Indigo's Atlas platform monitors the world's food supply. Combining remote sensing satellite imagery and machine learning, we monitor the progress of key crops around the world – where they are growing and how they are performing. An early read on supply helps reduce risk throughout the entire agricultural value chain. Indigo's GeoInnovation team brings agricultural insights to bear for the growers we partner with, elevating their opportunities to be profitable through more nuanced decision-making.
---
Disclaimer
This document is not for public distribution and has been furnished to you solely for your information and must not be reproduced or redistributed to any other person.
This material is for the personal information of the authorized recipient and Indigo Ag. Inc. ("Indigo") is not soliciting any action based upon it. This report is not to be construed as an offer to sell or solicit an offer to buy any commodity or commodity derivative to any person in any jurisdiction where such an offer or solicitation would be illegal. It is for the general information of clients of Indigo. It doesn't constitute a personal recommendation or take into account the particular investment objectives, financial situations, or needs of individual clients.
Insofar as this report includes current or historical information, it is believed to be reliable though its accuracy or completeness cannot be guaranteed. Neither Indigo, nor any person connected with it, accepts any liability arising from the use of this document. The recipients of this material should rely on their own due diligence and receive their own professional advice.
Price and value of the commodity referred to in this material may go up or down. Past performance is not a guide for future performance. Certain transactions including those involving commodity derivatives involve substantial risk and are not suitable for everyone. The report is based on information from different sources some proprietary and some public. Opinions expressed are Indigo's current opinions as of the date appearing on this material only. While we endeavor to update on a reasonable basis the information discussed in this material, there may be regulatory, compliance, or other reasons that prevent us from doing so. Readers of this report are cautioned that any forward-looking statements are not predictions and may be subject to change without notice. Our proprietary trading may make trading decisions that are inconsistent with the recommendations expressed herein.
We and our affiliates, officers, directors, and employees worldwide may: (a) from time to time, have long or short positions in, and buy or sell the commodities mentioned herein or (b) be engaged in any other transaction involving such commodities for compensation or have other potential conflict of interest with respect to any recommendation and related information and opinions. No part of this material may be duplicated in any form and/or redistributed without Indigo's prior written consent.