Share this post:
Record U.S. crop declines with dryness, derecho
Indigo is currently forecasting U.S. corn yield at 179.6 bushels per acre and soybeans at 49.5 bushels per acre, 0.6% above and 4.6% below the USDA's September WASDE report.
Supply impacts over the past month include the derecho – a storm that damaged 3.5M acres of corn and soybeans in Iowa, causing the loss of 150-250 million corn bushels, according to an Indigo remote sensing analysis of affected farmlands.
Producers with acres impacted by derecho

can jumpstart recovery with four regenerative farming techniques, detailed below.
September 11, 2020. Over the last month, Indigo's yield forecast for corn and beans came down 3.6 and 1.7 bu/ac, respectively, primarily as a result of drought and dryness for leading grain producing states. Iowa, Illinois, and South Dakota are experiencing the brunt of the crop degradation; the Corn Belt as a whole experienced the third driest August in 29 years. Still, corn and soybeans are on track to break records.
The U.S. corn yield is positioned to hit its highest level ever, beating out the 2017 record of 176.6 bu/ac (according to USDA NASS). Soybeans are also positioned to hit its third highest yield since 2000.
Indigo generates its forecasts through the analysis of satellite imagery, studying subtle differences in crop health through machine learning and proprietary modeling.
Heading into the end of the season, Indigo's corn forecast is less than 1% above, while Indigo's soybean forecast is a striking 4.6% below the USDA's most recent estimate. The most notable difference is that Indigo forecasts an additional 500K viable acres of corn will be harvested. The company will update its estimate for the final time in 2020 next month, when harvest is in full swing.
"There was no major surprise from the USDA today, with yield forecasts moving down. Looking forward; however, the big question on corn is not whether the yield will be a bushel higher or lower, but how many acres will actually be harvested - particularly in Iowa," commented Matt Beckwith, the head of Indigo's Atlas Insights team.
Want more insight into the report? Watch the webinar below.
Wind damage in the Heartland. The August 10th derecho that swept across a third of Iowa's farmland damaged 2.1M acres of corn and 1.4M acres of soybeans. Up to 118.7M bushels of corn and 6.0M bushels of beans were severely damaged by the storm, according to a new analysis from Indigo that unites radar, weather, and optical satellite data.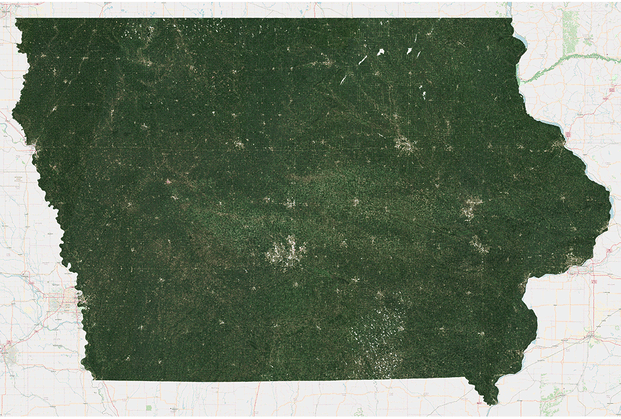 A view from space: when tracking crop health, remote sensing scientists rely on "optical" data, i.e. wavelengths of light that are visible to the human eye. These wavelengths are, however, not as useful for identifying when a crop is "lodging," or bent over. That's where radar imagery comes in: it's able to detect minor structural changes in the crop canopy. The all green image (above) is optical imagery of Iowa following the derecho; the second image, radar. This highlights how different data streams can more fully bring a storm's impact to bear on an analysis.
Four ways to regenerate acres with "greensnap." For crops flattened by hurricane-force winds, farmers can ameliorate losses while enriching their soil with four specific regenerative farming techniques:
Plant into downed drops. Leaving the downed crop in place is a viable option for those who have access to a sharp-coultered, no-till drill to cut through the thick residue come spring planting. Ground cover – like cover crops, and even in the form of damaged cash crops – will suppress weed and conserve top-soil through the rest of the summer, fall, and winter.

Don't have a no-till drill? The initial cost has been shown to be worth the investment: whether reduced in fuel use, time tending to the crop, or overall machinery upkeep, no-till can be a

sustainable and profitable farming practice

.
Flatten with soybean roller. If a producer is aiming to maximize spring emergence, flattening all downed corn with a soybean roller is a useful step to take this fall. Then, the sharp-coultered, no-till drill can still be used in the spring. As far as the crop to plant next year,

soybeans can be forgiving

when planted into high amounts of corn residue.
Vertical till bar for breaking down residue. For those producers who do not use no-till but want a minimal tillage option, a vertical-till bar can allow them to lightly chop up the corn residue while integrating it with the soil. Topsoil will, in turn, still be protected from erosion and the fallen corn residue will break down at a faster rate.

Vertical tillage does not have the same level of water retention, reduced soil compaction, and nutrient retention benefits of no-till, but it has been shown to increase

the available oxygen and nitrogen mineralization

for the cash crop.
Bury residue with disk. For a last resort, reduced tillage option, use a disk to bury the corn residue. It may disturb the top layer more than the other options above, but it can be an effective preparatory step for planting cover crops. Buried residue helps to improve the seed-to-soil contact for those covers, including cereal rye, which have several overwintering benefits and should be considered by farmers today.
Dealing with greensnap from the derecho? Or Hurricane Laura?

Or another wind event?
Get advice from an agronomy specialist: (484) 218-4392
---
How are these forecasts generated? Atlas combines remote sensing, ground equipment, historical, and weather data to track the dynamic variables that affect crop health. The technology can characterize local soil conditions, recognize field boundaries, and discern subtle differences in crop performance across regions. The immediacy and accuracy of this information can support growers in the marketing and sale of their grain.
Important to note, NASA's Aqua satellite – a main source for agricultural remote sensing analysis – experienced hardware issues on August 16th, disrupting the data streams relied on to make production forecasts. To ensure continued availability and quality of these forecasts, Indigo's data science team developed a new method for calibrating data sources to retain daily crop insights.


Disclaimer: This document is not for public distribution and has been furnished to you solely for your information and must not be reproduced or redistributed to any other person.
This material is for the personal information of the authorized recipient and Indigo Ag. Inc. ("Indigo") is not soliciting any action based upon it. This report is not to be construed as an offer to sell or solicitation of an offer to buy any commodity or commodity derivative to any person in any jurisdiction where such an offer or solicitation would be illegal. It is for the general information of clients of Indigo. It doesn't constitute a personal recommendation or take into account the particular investment objectives, financial situations, or needs of individual clients.
In so far as this report includes current or historical information, it is believed to be reliable though its accuracy or completeness cannot be guaranteed. Neither Indigo, nor any person connected with it, accepts any liability arising from the use of this document. The recipients of this material should rely on their own due diligence and receive their own professional advice.
Price and value of the commodity referred to in this material may go up or down. Past performance is not a guide for future performance. Certain transactions including those involving commodity derivatives involve substantial risk and are not suitable for everyone. The report is based on information from different sources, some proprietary and some public. Opinions expressed are Indigo's current opinions as of the date appearing on this material only. While we endeavor to update on a reasonable basis the information discussed in this material, there may be regulatory, compliance, or other reasons that prevent us from doing so. Readers of this report are cautioned that any forward-looking statements are not predictions and may be subject to change without notice. Our proprietary trading may make trading decisions that are inconsistent with the recommendations expressed herein.
We and our affiliates, officers, directors, and employees worldwide may: (a) from time to time, have long or short positions in, and buy or sell the commodities mentioned herein or (b) be engaged in any other transaction involving such commodities for compensation or have other potential conflict of interest with respect to any recommendation and related information and opinions. No part of this material may be duplicated in any form and/or redistributed without Indigo's prior written consent.