Share this post:
Questions and uncertainty remain as we approach the primary harvest season for US corn and soybeans: Will the relatively good growing season make up for the late planted crop? Or will it be "too little, too late" to achieve expected yields?
For corn, Indigo is currently forecasting end of season production at 12.5B bushels, average yield at 159.4 bu/ac, and area planted at 86.2M acres. For soybeans, Indigo is currently forecasting end of season production at 3.4B bushels, average yield at 45.2bu/ac, and area planted at 75.7M acres. Indigo's production forecasts are still well below the August WASDE report, to the tune of 1.4B fewer bushels of corn and 0.3B bushels for soybeans.
Crop health has peaked. Indigo built a proprietary measurement of plant performance, known as the Crop Health Index (CHI). Common vegetative indices – like NDVI, or SAVI – are powerful methods for understanding the makeup of different geographies from space but are not necessarily well equipped to track crop performance throughout the growing season. Indigo combines the CHI, along with other dynamic variables affecting crop health such as weather patterns and crop health reports from the field, to generate its yield forecasts.
CHI is always displayed as a curve, similar in shape to a standard deviation curve, with tails on each end and a peak in the middle. As the crop grows over the course of the season, reaches maturity, and then dries out before harvest, the curve slopes up, peaks, and then slopes down. When, and how the CHI peaks for different crops can encapsulate a lot of the "why" in any one growing season. This year, for example, the CHI for corn peaked 9 days later and 7% below the trend over the last decade.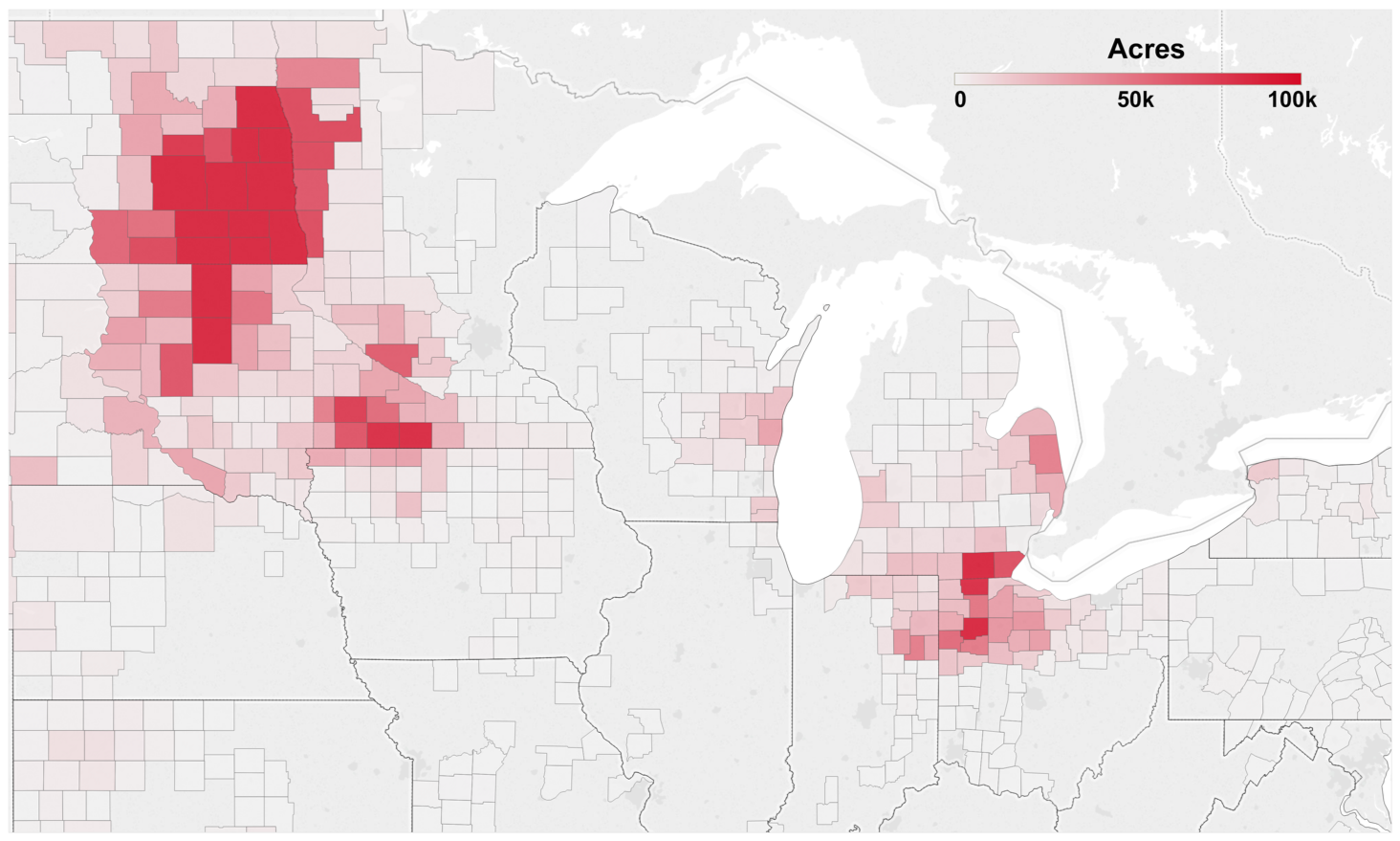 What's still unknown? In a season where late planting is the predominant story, the question remains whether the crop will reach physiological maturity before a hard freeze. For those acres that are far behind in development, an early or even average freeze could stop the crop short. Indigo has identified approximately 1.8B bushels of corn at risk across the U.S., should an early frost take place; that's almost 12% of the entire corn crop. Even with an average frost, 800M bushels of corn are still at risk.
As part of this analysis, Indigo identified 8.6M acres – 6.0M of which are corn, 2.6 of which are soybeans – that are more than a month behind in development, compared to a 10-year trend. Many of these acres are concentrated within North Dakota, South Dakota, and northwestern Ohio. These areas also happen to be at greatest risk of experiencing an early freeze. In the event of an early freeze, we could see additional crop shortages, especially in these markets.
A late crop that escaped a disastrous start to the season, never realized its full potential, and faces an uncertain end: that's the abridged version of the US corn and soybean production story at this point in 2019.
Disclaimer:
This document is not for public distribution and has been furnished to you solely for your information and must not be reproduced or redistributed to any other person.
This material is for the personal information of the authorized recipient and Indigo Ag. Inc. ("Indigo") is not soliciting any action based upon it. This report is not to be construed as an offer to sell or solicitation of an offer to buy any commodity or commodity derivative to any person in any jurisdiction where such an offer or solicitation would be illegal. It is for the general information of clients of Indigo. It doesn't constitute a personal recommendation or take into account the particular investment objectives, financial situations, or needs of individual clients.
In so far as this report includes current or historical information, it is believed to be reliable though its accuracy or completeness cannot be guaranteed. Neither Indigo, nor any person connected with it, accepts any liability arising from the use of this document. The recipients of this material should rely on their own due diligence and receive their own professional advice.
Price and value of the commodity referred to in this material may go up or down. Past performance is not a guide for future performance. Certain transactions including those involving commodity derivatives involve substantial risk and are not suitable for everyone. The report is based on information from different sources some proprietary and some public. Opinions expressed are Indigo's current opinions as of the date appearing on this material only. While we endeavor to update on a reasonable basis the information discussed in this material, there may be regulatory, compliance, or other reasons that prevent us from doing so. Readers of this report are cautioned that any forward-looking statements are not predictions and may be subject to change without notice. Our proprietary trading may make trading decisions that are inconsistent with the recommendations expressed herein.
We and our affiliates, officers, directors, and employees worldwide may: (a) from time to time, have long or short positions in, and buy or sell the commodities mentioned herein or (b) be engaged in any other transaction involving such commodities for compensation or have other potential conflict of interest with respect to any recommendation and related information and opinions. No part of this material may be duplicated in any form and/or redistributed without Indigo's prior written consent.