Share this post:
March 10, 2020. Today, Indigo updated its South American Corn and Soybean Production Report. The company's corn and soybean production forecast in Brazil and Argentina is 6% and 7% lower, respectively, than market projections from Companhia Nacional de Abastecimento (Conab) and United States Department of Agriculture Foreign Agricultural Service (USDA FAS).
Indigo is forecasting 142 million metric tons (MMT) of corn and 164 MMT of soybeans. Those forecasts are 8 MMT and 12 MMT fewer for both corn and soybeans, respectively, than industry benchmarks.
Continued differences across Brazil. In Brazil, Indigo forecasts 98 MMT of corn and 114 MMT of soybeans, based on projected yields of 5.4 tons per hectare for corn and 3.1 tons per hectare for soybeans, as well as area planted estimates of 18M hectares and 36.8M hectares, respectively.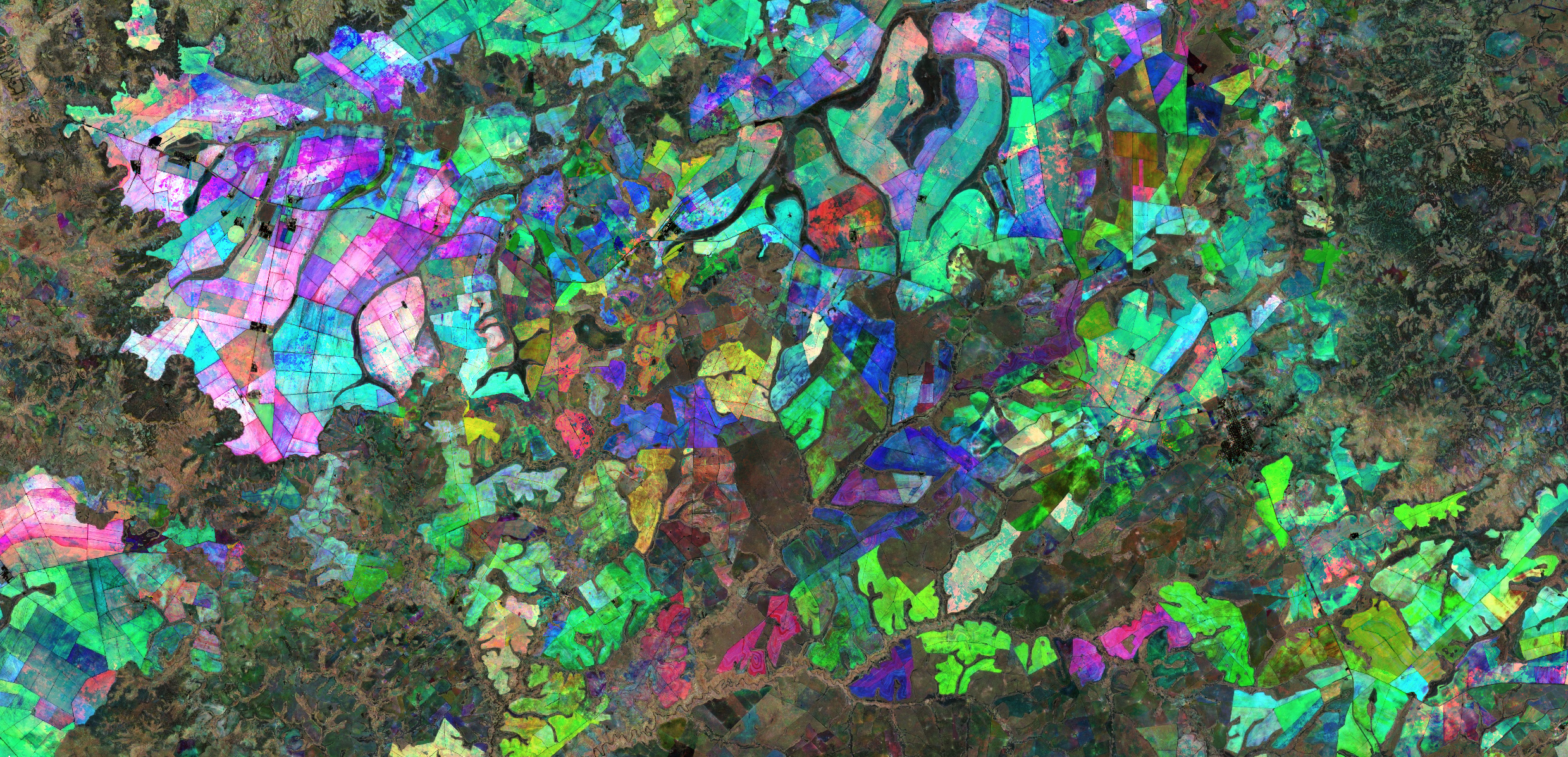 After record corn and soybean production in 2019, Mato Grosso (pictured above in an image pulled from Indigo Atlas, a living map of the world's food system) is on pace to outperform itself in 2020. Agriculture is this Brazilian state's largest industry, with soybeans accounting for over 80% of its exports.
Production has remained variable across Brazilian states. Mato Grosso has seen an uptick in its soybean performance, with an increasing yield of 0.1 tons per hectare since Indigo's last report (and continuing its record run); there has been no change in neighboring Mato Grosso do Sul, which neighbors Mato Grosso to the south; and Rio Grande do Sul has seen a slight deflation, down 0.1 tons per hectare.
Weather impacts Argentinian crop. In Argentina, Indigo forecasts 44 MMT for corn and 50 MMT for soybeans, based on projected yields of 7.0 tons per hectare for corn and 2.9 tons per hectare for soybeans, with an estimated planted area of 6.3M hectares and 17.4M hectares, respectively.
Dry to start the season, and dry to end it: Argentina may have been spared in the intermediary months with adequate moisture and sufficient temperatures, but the past three weeks has seen excessive heat with little to no rain. Should this dryness continue, later planted soy and corn could be impacted in the country, as rain "makes the grain" for both corn and soy during the germination and pod-filling phases.
Interested in learning more? Watch the webinar below, featuring Matt Beckwith, Director of GeoInnovation, and Nicholas Malizia, Director of Data Science for GeoInnovation.
Disclaimer: This document is not for public distribution and has been furnished to you solely for your information and must not be reproduced or redistributed to any other person. This material is for the personal information of the authorized recipient and Indigo Ag. Inc. ("Indigo") is not soliciting any action based upon it. This report is not to be construed as an offer to sell or solicitation of an offer to buy any commodity or commodity derivative to any person in any jurisdiction where such an offer or solicitation would be illegal. It is for the general information of clients of Indigo. It doesn't constitute a personal recommendation or take into account the particular investment objectives, financial situations, or needs of individual clients.
In so far as this report includes current or historical information, it is believed to be reliable though its accuracy or completeness cannot be guaranteed. Neither Indigo, nor any person connected with it, accepts any liability arising from the use of this document. The recipients of this material should rely on their own due diligence and receive their own professional advice. Price and value of the commodity referred to in this material may go up or down. Past performance is not a guide for future performance. Certain transactions including those involving commodity derivatives involve substantial risk and are not suitable for everyone. The report is based on information from different sources, some proprietary and some public. Opinions expressed are Indigo's current opinions as of the date appearing on this material only. While we endeavor to update on a reasonable basis the information discussed in this material, there may be regulatory, compliance, or other reasons that prevent us from doing so. Readers of this report are cautioned that any forward-looking statements are not predictions and may be subject to change without notice. Our proprietary trading may make trading decisions that are inconsistent with the recommendations expressed herein. We and our affiliates, officers, directors, and employees worldwide may: (a) from time to time, have long or short positions in, and buy or sell the commodities mentioned herein or (b) be engaged in any other transaction involving such commodities for compensation or have other potential conflict of interest with respect to any recommendation and related information and opinions. No part of this material may be duplicated in any form and/or redistributed without Indigo's prior written consent.