Share this post:
As dry and hot conditions persist for key areas of the Corn Belt, yield forecasts for corn and soybeans have declined since last month.
Indigo's current corn production estimate is 560 million bushels lower than the USDA.
Indigo's current soybean production estimate is 90 million bushels lower than the USDA.
July 13, 2021. After lightning fast planting to start the season, surging temperatures and limited rainfall through key areas of the Corn Belt have brought down yield forecasts for corn and soybeans in the U.S.
A high-level look at production. Indigo's yield estimates nationally have declined 1.6 bu/ac and 0.1 bu/ac for corn and beans since last month, respectively; overall production estimates, however, are split, with a 40 million bushel increase for corn and a 10 million bushel decrease for beans. The former change is due to corn's 1.55 million upward revision to planted acreage from the USDA. This is the first U.S. report of 2021 to leverage remote sensing models to forecast crop yield.
Northern Plains trying to beat the heat. Drought conditions have dominated in the Dakotas and Minnesota, where 20% of this year's corn and 23% of this year's soybeans are estimated to be planted – the highest concentration of these two crops over the three states in the last decade. As of the end of last month, almost 100% of the Dakotas and Minnesota were dealing with abnormally dry conditions, according to the U.S. Drought Monitor.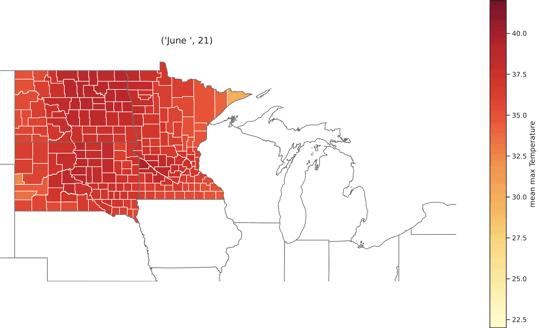 Looking at the Northern Plains' average maximum temperatures for June over the past 10 years,
2021 stands out as the hottest peak temperatures for key growing areas in the Dakotas and Minnesota.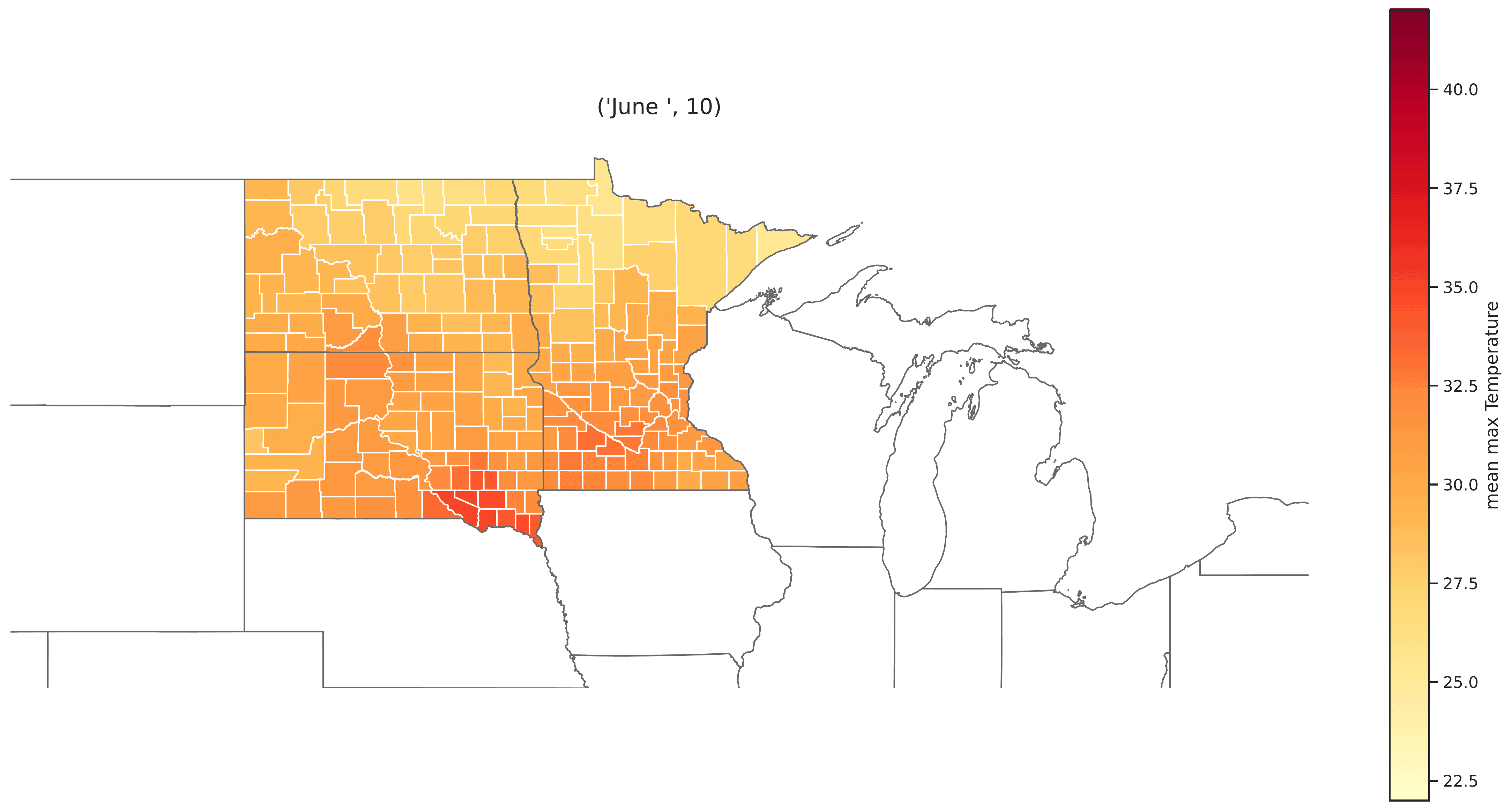 Clayton Rehm, a grain marketing specialist for Indigo who originates and farms out of Minnesota, was seeing a crop good enough to stand the heat towards the end of June, but confided, "Rain's needed in a bad way." His 40 acre hay field produced 126 big squares last year from its first cut; this year, only 36 were pulled. "High ground burn can be seen across the state," he said. "Wheat, alfalfa, and pasture ground dryland are smoked for now."
"The area where more rainfall is needed continues to be the northwestern Corn Belt, where South Dakota is rated 82% short on moisture, Minnesota is 76% short, North Dakota is 75% short, and Iowa is 40% short," says Michael Cordonnier, an agricultural consultant providing up-to-date information about soybean and corn production in both North and South America. "The rainfall this past weekend was disappointing in the northwestern Corn Belt and the area can ill afford to miss any chance of rain especially as the temperatures warm up."
Looking out the next six to fourteen days, the weather forecast is not expected to change much, according to Indigo's in-house meteorologist Dr. Julia Lange. "The conditions will stay dry and warmer than normal in the north, with severe to exceptional drought conditions in North Dakota. Parts of Missouri, Iowa, and Illinois will see a lot of precipitation and flash flood warnings. Further out into August, there is a 70% chance of slightly higher than normal temperatures in the northern corn regions and in Indiana and Ohio, as well as more normal conditions in Nebraska, Iowa, Missouri and Illinois."
Need more market insights like this, whether you run a farm or an elevator? Find out how analytics in Marketplace can enrich your business decisions.

Interested in learning more? Stay tuned for next month's market report, where these estimates will be updated, and the upcoming weather conditions will be analyzed.
Disclaimer: This document is not for public distribution and has been furnished to you solely for your information and must not be reproduced or redistributed to any other person. This material is for the personal information of the authorized recipient and Indigo Ag. Inc. ("Indigo") is not soliciting any action based upon it. This report is not to be construed as an offer to sell or solicitation of an offer to buy any commodity or commodity derivative to any person in any jurisdiction where such an offer or solicitation would be illegal. It is for the general information of clients of Indigo. It doesn't constitute a personal recommendation or take into account the particular investment objectives, financial situations, or needs of individual clients. In so far as this report includes current or historical information, it is believed to be reliable though its accuracy or completeness cannot be guaranteed. Neither Indigo, nor any person connected with it, accepts any liability arising from the use of this document. The recipients of this material should rely on their own due diligence and receive their own professional advice. Price and value of the commodity referred to in this material may go up or down. Past performance is not a guide for future performance. Certain transactions including those involving commodity derivatives involve substantial risk and are not suitable for everyone. The report is based on information from different sources, some proprietary and some public. Opinions expressed are Indigo's current opinions as of the date appearing on this material only. While we endeavor to update on a reasonable basis the information discussed in this material, there may be regulatory, compliance, or other reasons that prevent us from doing so. Readers of this report are cautioned that any forward-looking statements are not predictions and may be subject to change without notice. Our proprietary trading may make trading decisions that are inconsistent with the recommendations expressed herein. We and our affiliates, officers, directors, and employees worldwide may: (a) from time to time, have long or short positions in, and buy or sell the commodities mentioned herein or (b) be engaged in any other transaction involving such commodities for compensation or have other potential conflict of interest with respect to any recommendation and related information and opinions. No part of this material may be duplicated in any form and/or redistributed without Indigo's prior written consent.