Share this post:
July 11, 2019
Corn and soy production forecasts for the United States are out: our first end-of-season yield estimates are 159.4 bu/ac for corn and 47.6 bu/ac for soybeans, with total production estimates at 12.4B bushels for corn and 4.2B bushels for soy. This outlook, released a day before the USDA's July WASDE report, was generated by Indigo Atlas' machine learning algorithms using satellite, historical crop performance, and weather data. Below, we dig into the circumstances informing these forecasts, dissect the larger story of production in the U.S., and take a look at trends over the past two decades to understand what to expect in the coming months.
First, yield forecasts: For the first two months of the growing season, wet weather and flooding delayed, and even outright prevented, planting; hundreds of fields were underwater, planters were left dormant. Mother Nature killed time, a resource precious to farmers.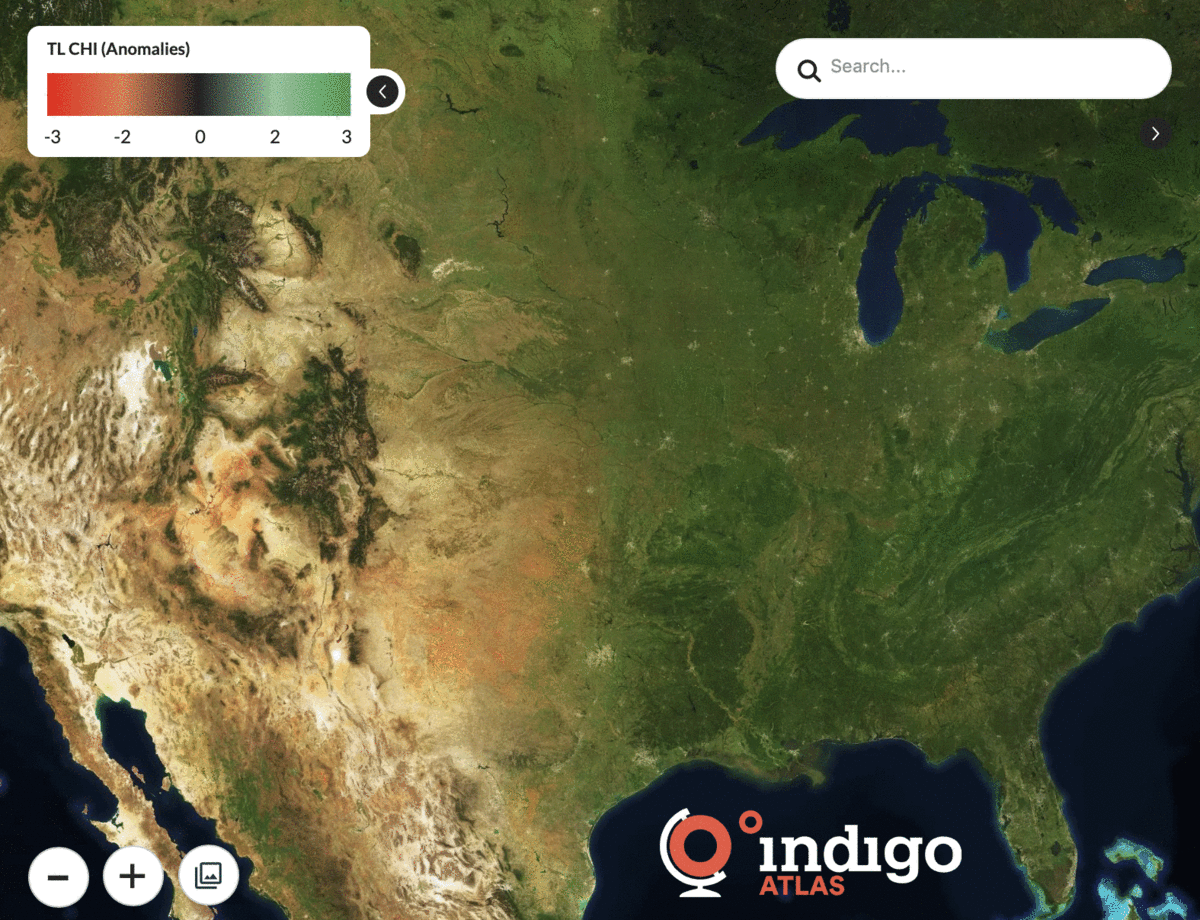 Corn, for example, needs anywhere from 100 to 120 days of adequate sunlight and warmth of around 80 degrees Fahrenheit to reach maturity. These calendar days break down into growing degree days, which are calculated based on the maximum and minimum temperatures reached each day. Seen in the map below, states like South Dakota have seen growing degree days reduced by more than twenty percent compared to the window of May 19 to July 8 at this point in 2018. With the longest days of the year already passed, getting the requisite growing conditions needed to reach maturity will likely require growing conditions to extend well into the fall.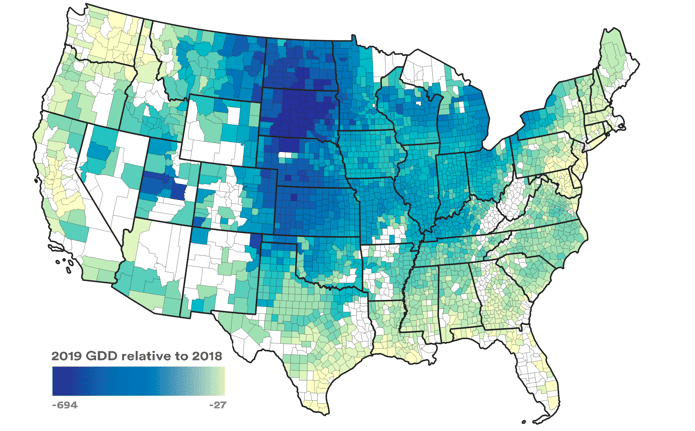 A mix of hot and dry weather followed the rain, impacting both the corn's pollination period and the soy's pod filling phase, in which precipitation for the former and humidity for the latter are crucial. A late frost could offset early season issue, but it is not guaranteed to occur.
Indigo's yield forecasts, given the drastic weather circumstances, come in well under expected trends. At the start of this year, Atlas predicted a closeout of 173 bu/ac for corn and 51 bu/ac for soy, based on upward patterns seen in the last fifteen years of data; the USDA, at the same time, predicted a closeout of 176.1 bu/ac for corn and 49.5 bu/ac for soy. The USDA recently revised this pre-season closeout expectations before August (the standard time for a revision to come forward), bringing corn production down to 166 bu/ac. This unprecedented move speaks to the severity of the circumstances defining 2019 for farmers across the U.S.
Major producers of corn and soy — i.e., Illinois, Missouri, and Michigan, for example — are facing onerous conditions, while states like Texas and Kansas, with fewer acres and typically lower yields, have relatively good production forecasts. A robust corn and soy crop in Texas won't shift the needle for total production, but under the surface of poor national performance, there is a surprising level of heterogeneity across states.
Next, acreage forecasts. Two weeks ago, Indigo gave a range of 81 to 89M acres of corn and 89 to 95M acres of soy planted in the U.S. Today, we have revised those ranges to a point: 85.4M for corn and 89.3M for soy. With these numbers, while accounting for the number of acres that are expected to be harvested, Indigo forecasts 12.4B bushels of corn and 4.2B bushels of soy produced in 2019. That is 1.5 and 3.9B bushels below the USDA's predictions, respectively, as of June 2019.
Stay tuned for our August crop report, in which we will continue to refine our yield and production estimates as our crop models show either improvements or deteriorations in health.
---
Disclaimer:
This document is not for public distribution and has been furnished to you solely for your information and must not be reproduced or redistributed to any other person.

This material is for the personal information of the authorized recipient and Indigo Ag. Inc. ("Indigo") is not soliciting any action based upon it. This report is not to be construed as an offer to sell or solicitation of an offer to buy any commodity or commodity derivative to any person in any jurisdiction where such an offer or solicitation would be illegal. It is for the general information of clients of Indigo. It doesn't constitute a personal recommendation or take into account the particular investment objectives, financial situations, or needs of individual clients.

In so far as this report includes current or historical information, it is believed to be reliable though its accuracy or completeness cannot be guaranteed. Neither Indigo, nor any person connected with it, accepts any liability arising from the use of this document. The recipients of this material should rely on their own due diligence and receive their own professional advice.

Price and value of the commodity referred to in this material may go up or down. Past performance is not a guide for future performance. Certain transactions including those involving commodity derivatives involve substantial risk and are not suitable for everyone. The report is based on information from different sources some proprietary and some public. Opinions expressed are Indigo's current opinions as of the date appearing on this material only. While we endeavor to update on a reasonable basis the information discussed in this material, there may be regulatory, compliance, or other reasons that prevent us from doing so. Readers of this report are cautioned that any forward-looking statements are not predictions and may be subject to change without notice. Our proprietary trading may make trading decisions that are inconsistent with the recommendations expressed herein.
We and our affiliates, officers, directors, and employees worldwide may: (a) from time to time, have long or short positions in, and buy or sell the commodities mentioned herein or (b) be engaged in any other transaction involving such commodities for compensation or have other potential conflict of interest with respect to any recommendation and related information and opinions. No part of this material may be duplicated in any form and/or redistributed without Indigo's prior written consent.