Share this post:
February 11, 2020. Today, Indigo announced updates to its South American Corn and Soybean Production Report. Over the past month, Indigo's estimates have increased 1% for corn and 7% for soybeans to 139 million metric tons (MMT) and 167 MMT, respectively. Split out by country, corn yield is up 5% in Argentina with no change in Brazil, and soybean yield projects up 13% in Argentina and 5% in Brazil.
Although market reports continue to predict a record crop in both countries, Indigo Atlas – a living map of the world's food systems – continues to find evidence for only an above average year. The platform interprets signals from the crop canopy to generate national and local insights into corn and soybean health and productivity, offering the most up-to-date forecasts for South America.
"At the end of the day, a record crop should look like a record crop," said Matt Beckwith, Director of Geoinnovation, and leader of the company's yield reporting efforts. "While it's possible for a runner in the middle of the pack to catch a second wind and win the race, that kind of comeback requires one powerful kick. So, while it is possible for Brazil's soy to achieve record production, a phenomenal finish or uncounted planted hectares would be needed."
Variation between Brazilian states. In Brazil, Indigo forecasts 95 MMT of corn and 115 MMT of soybeans, based on projected yields of 5.4 tons per hectare for corn and 3.1 tons per hectare for soybeans, as well as area planted estimates of 17.5M hectares and 36.8M hectares, respectively.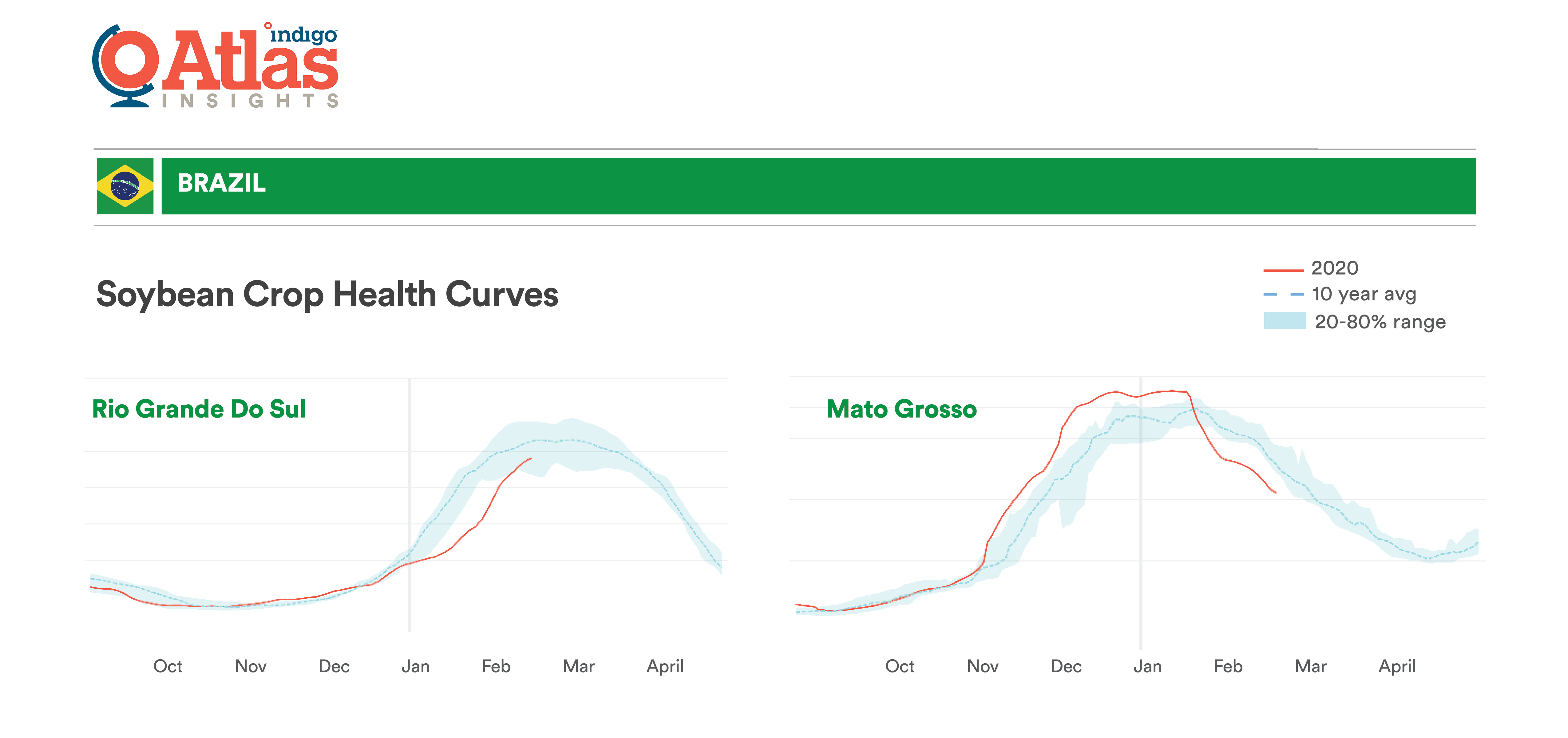 Soybean Crop Health Curve for Brazil: Indigo's Crop Health Index (CHI) is satellite-derived vegetation index tuned for corn and soybeans.
Production has varied across Brazil's 14 states, with some areas – like Mato Grosso, and other central and northeastern areas – showing a record pace while others – like Rio Grande do Sul, and other southern areas – lagging behind. Southern Brazil saw high temperatures and irregular rain through December and January, impacting the germination of both corn and soybeans. The areas most in need rain have a forecast of further dry weather.
Next month, Indigo will break-out its full season Brazilian corn forecasts into the first planting and safrinha crop.
Crop production is steady across Argentinian states. In Argentina, Indigo forecasts 44 MMT for corn and 52 MMT for soybeans, based on projected yields of 7.0 tons per hectare for corn and 2.9 tons per hectare for soybeans, with an estimated planted area of 6.1M hectares and 17.5M hectares, respectively.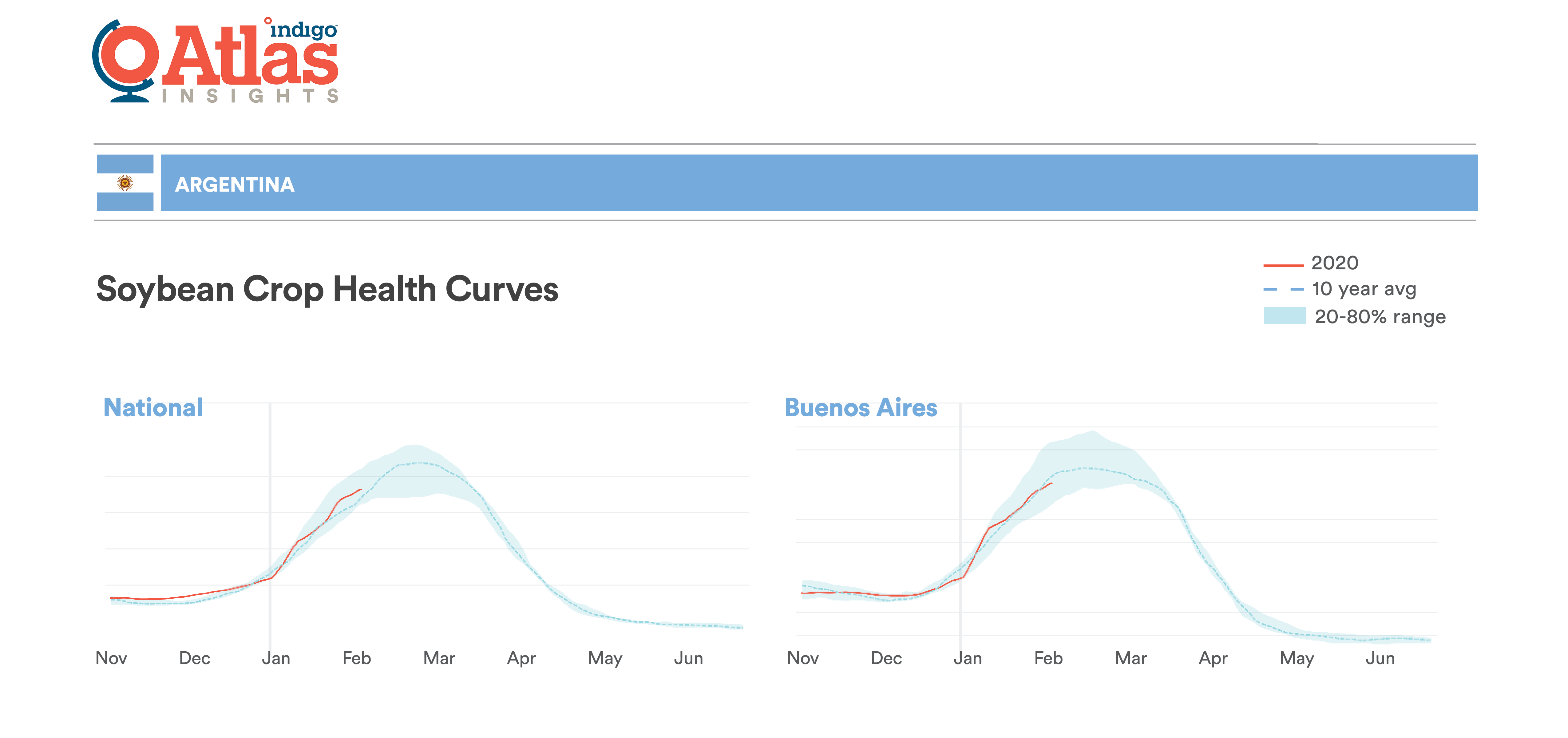 Soybean Crop Health Curve for Argentina: Indigo's Crop Health Index (CHI) is satellite-derived vegetation index tuned for corn and soybeans.
After a dry start early in the season, Argentina has fared well over the past several months; Argentinian production, unlike Brazil, is currently consistent across the country's core production regions. Weather in Santa Fe, Buenos Aires, and Santa Cruz have shown adequate moisture and sufficient temperatures – even as pockets of dry weather continue to worry some analysts. Corn harvest has started in some areas of the country, while soybeans are beginning to undergo its crucial pod-setting and -filling stages over the next month. Indigo's yield forecasts for corn in Argentina are currently 14% below the USDA's estimates, due in large part to the late planting and weaker than average crop canopy Atlas has been tracking.
How are we generating our forecast? Atlas starts its season with a trend-based model: given the historical average, expected increase in productivity, and further development of agricultural technologies, we set a prediction for how corn and soybeans should perform given adequate weather conditions. After the crops have time to grow, their canopies offer more and more information to satellites – remote sensing data that is processed through Atlas' proprietary machine learning techniques to form a Crop Health Index (CHI), seen in the images above. Our models move from a static prediction to a dynamic one; CHI is updated in real-time and gives the best view into on-the-ground performance.
What action can growers take? For growers, optimal grain transactions are based on global market movements; the best offers are not just local, anymore. "As global demand gets more comfortable with sourcing crops from different countries," said Rodney Connor, Sr. Director of Global Markets Intelligence and Analysis at Indigo, "the South American corn and soybean season has even more of an impact on U.S. prices. While it is still early, we will be watching these real time insights closely through Indigo Atlas to see how our basis models and cash prices are affected."
Growers can act with these insights through Indigo Marketplace, a digital platform for grain sellers and buyers to identify optimal transactions. With greater market transparency, Marketplace helps growers find the best bid for their crops and buyers source grain meeting their exact specifications. "Atlas reports are just another piece in the grain marketing puzzle," said Gabe Sheets-Poling, Global Head of Marketplace at Indigo. "Whether you want to overhaul, adjust, or fine tune your selling strategy, the reports are a valuable resource when working on the platform."
Interested in learning more? Watch the webinar below, featuring Matt Beckwith and Nicholas Malizia, Director of Data Science for GeoInnovation. The two cover updates to our production report and the science behind generating models for agriculture.
Disclaimer: This document is not for public distribution and has been furnished to you solely for your information and must not be reproduced or redistributed to any other person.
This material is for the personal information of the authorized recipient and Indigo Ag. Inc. ("Indigo") is not soliciting any action based upon it. This report is not to be construed as an offer to sell or solicitation of an offer to buy any commodity or commodity derivative to any person in any jurisdiction where such an offer or solicitation would be illegal. It is for the general information of clients of Indigo. It doesn't constitute a personal recommendation or take into account the particular investment objectives, financial situations, or needs of individual clients.
In so far as this report includes current or historical information, it is believed to be reliable though its accuracy or completeness cannot be guaranteed. Neither Indigo, nor any person connected with it, accepts any liability arising from the use of this document. The recipients of this material should rely on their own due diligence and receive their own professional advice.
Price and value of the commodity referred to in this material may go up or down. Past performance is not a guide for future performance. Certain transactions including those involving commodity derivatives involve substantial risk and are not suitable for everyone. The report is based on information from different sources, some proprietary and some public. Opinions expressed are Indigo's current opinions as of the date appearing on this material only. While we endeavor to update on a reasonable basis the information discussed in this material, there may be regulatory, compliance, or other reasons that prevent us from doing so. Readers of this report are cautioned that any forward-looking statements are not predictions and may be subject to change without notice. Our proprietary trading may make trading decisions that are inconsistent with the recommendations expressed herein.
We and our affiliates, officers, directors, and employees worldwide may: (a) from time to time, have long or short positions in, and buy or sell the commodities mentioned herein or (b) be engaged in any other transaction involving such commodities for compensation or have other potential conflict of interest with respect to any recommendation and related information and opinions. No part of this material may be duplicated in any form and/or redistributed without Indigo's prior written consent.