Share this post:
As mostly dry and stifling conditions hammer the Dakotas and Minnesota, yield forecasts for corn and soybeans have declined since last month.
Indigo's current corn production estimate is 386 million bushels lower than the USDA.
Indigo's current soybean production estimate is 90 million bushels lower than the USDA.
August 12, 2021. The last month of the U.S. growing season is like a model for the entire year. In the northwest, scorching temperatures burned through the crop with little to no rainfall in its wake. Out east, meanwhile, Ohio and Indiana are well ahead of the 5-year average for crop conditions, indicating an above-average crop. And there's significant, county-by-county variability in the heart of the Corn Belt. These regional stories have been consistent since April; weather is now the primary focus of the market, as the bulk of the crop is firmly in the dough or pod setting stage.
Shauna Vorderbruggen, a grain marketing specialist based out of North Dakota, anticipates many farmers in the region may be oversold come harvest. "We have corn fields that did not produce any ears and have already been zero'd out and baled," she said. "Soybean pods are starting to drop in the wind in the northeastern area." Still, Vorderbruggen is tracking several areas of the Dakotas that will produce a below average, but still decent crop. "LaMoure and Dickey County in North Dakota are probably the best in the state," she said, noting the help those areas received from a few timely rains.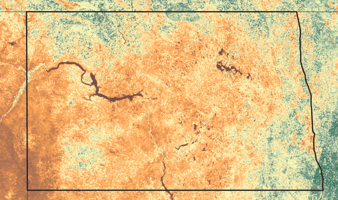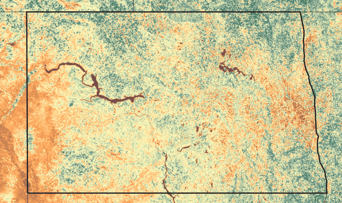 When comparing corn crop health in North Dakota this year (left) to last year (right), a visual difference is obvious, especially in the center of the state.
Michael Cordonnier, an agricultural consultant providing up-to-date information about soybean and corn production in both North and South America, noted some helpful rainfall over the past couple of weeks in pockets of the Corn Belt – but he's still focused on the drier weather ahead. "There were some rains last week and over the weekend in the dryer areas of the northwestern Corn Belt especially in Wisconsin, Minnesota, northeastern South Dakota, and southeastern Nebraska," he wrote in a weekly report. "On Monday there were additional rains in northeastern Iowa, Illinois, and Wisconsin. Later this week, the rainfall will be focused more across the central and eastern Corn Belt and then it turns dryer in the 6-10 day forecast."
National yield estimates in review. Indigo's yield estimates nationally have declined 2.9 bu/ac and 0.8 bu/ac for corn and beans since last month to 170 bu/ac and 49 bu/ac. Even after the USDA revised its corn projections down a whopping 4.9 bu/ac today, our updated corn projections are still 386 million bushels lower than the agency. The soybean differential is narrower, a 90 million bushel difference from the USDA.
What's driving our lower estimates? This is the second U.S. report of 2021 that leverages remote sensing models to forecast crop yield – the hallmark of Indigo's analysis. Over 5,000 satellites orbit our planet every day, belonging to different clusters, and equipped with some of the most sophisticated cameras and sensors available. These clusters — known as "constellations" — are built and distributed by different global organizations, such as the European Space Agency (ESA) and National Aeronautics and Space Administration (NASA). With those revolutionary lenses, satellites amass, every day, multiple photo albums that make up the entirety of the Earth's surface.
Many of the satellites' sensors are designed specifically to look at cropland, across every geography. They range in size, but can be larger than a midsize car and smaller than a basketball. Far beyond the red, green, and blue wavelengths you or I might see in our daily lives, these instruments use additional wavelengths of light to "see" into crop canopies. That makes the vantage point satellites have in space not only expansive, but unique. Our analysts, powered by machine learning technologies, work to "read" these images – looking at chlorophyll content, moisture accumulation, runoff, planting decisions, and other variables – to map a comprehensive, real-time understanding of plant health.
As such, the models our analysts and data scientists have built combine this remote sensing data with weather, ground, and historical information to offer an unbiased and immediate view of crop production. The county-by-county variability in weather every month is weighted heavily in determining how a crop will ultimately perform. With such low performance in the Dakotas and Minnesota, where 20% of this year's corn and 23% of this year's soybeans are estimated to be planted – the highest concentration of these two crops over the three states in the last decade – sharp declines in production are to be expected.
Interested in learning more? Stay tuned for next month's market report, where these estimates will be updated, and the upcoming weather conditions will be analyzed.
Need more market insights like this, whether you run a farm or an elevator? Find out how analytics in Marketplace can enrich your business decisions.
Disclaimer: This document is not for public distribution and has been furnished to you solely for your information and must not be reproduced or redistributed to any other person. This material is for the personal information of the authorized recipient and Indigo Ag. Inc. ("Indigo") is not soliciting any action based upon it. This report is not to be construed as an offer to sell or solicitation of an offer to buy any commodity or commodity derivative to any person in any jurisdiction where such an offer or solicitation would be illegal. It is for the general information of clients of Indigo. It doesn't constitute a personal recommendation or take into account the particular investment objectives, financial situations, or needs of individual clients. In so far as this report includes current or historical information, it is believed to be reliable though its accuracy or completeness cannot be guaranteed. Neither Indigo, nor any person connected with it, accepts any liability arising from the use of this document. The recipients of this material should rely on their own due diligence and receive their own professional advice. Price and value of the commodity referred to in this material may go up or down. Past performance is not a guide for future performance. Certain transactions including those involving commodity derivatives involve substantial risk and are not suitable for everyone. The report is based on information from different sources, some proprietary and some public. Opinions expressed are Indigo's current opinions as of the date appearing on this material only. While we endeavor to update on a reasonable basis the information discussed in this material, there may be regulatory, compliance, or other reasons that prevent us from doing so. Readers of this report are cautioned that any forward-looking statements are not predictions and may be subject to change without notice. Our proprietary trading may make trading decisions that are inconsistent with the recommendations expressed herein. We and our affiliates, officers, directors, and employees worldwide may: (a) from time to time, have long or short positions in, and buy or sell the commodities mentioned herein or (b) be engaged in any other transaction involving such commodities for compensation or have other potential conflict of interest with respect to any recommendation and related information and opinions. No part of this material may be duplicated in any form and/or redistributed without Indigo's prior written consent.